How to beat Madrid
Madrid-based Tim Stannard says not allowing Real Madrid to counter could be key for Manchester United if they are to return from the Spanish capital with a credible result on Wednesday evening...
Last Updated: 12/02/13 8:31am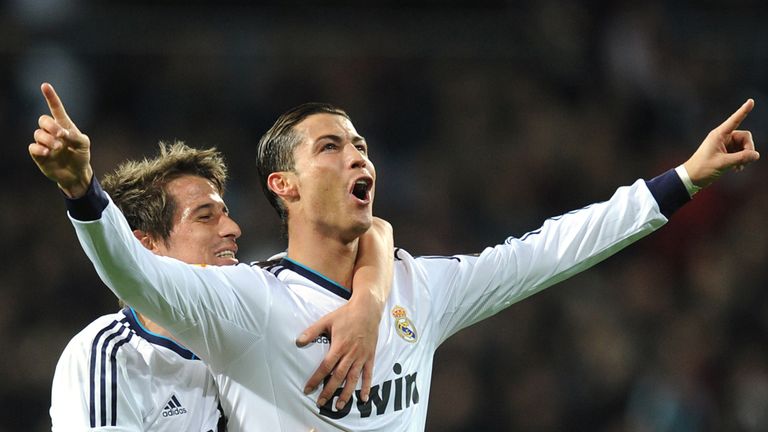 It may sound like a very bad idea on paper but the best approach that Manchester United can adopt at the Santiago Bernabéu on Wednesday night is to give the ball to Real Madrid as soon as humanly possible. With United's side containing a sufficient number of English footballers - not known in Spain for their ability to keep possession - that may well happen unintentionally, anyway.
Unlike Barcelona, who enjoy having the ball for around 98% of the time and know full well what to do with it, Real Madrid are a side currently paralysed by indecision and a lack of ideas when in possession, aside from giving it to Cristiano Ronaldo and hoping desperately the Portuguese can do something dangerous with it.
This is one of the primary reasons why Real Madrid are 16 points behind Barcelona at the top of the table. The matches where José Mourinho's side have particularly come a cropper this year have been against the likes of Granada and Osasuna. These were opponents who were delighted to hand over the initiative to the opposition, get bodies behind the ball and allow Real Madrid to dither for 90 minutes, barely having a shot on target. 'Real Madrid have a serious problem: they don't know what to do with the ball when the enemy gives it to them,' warned Roberto Palomar in Monday's Marca.
There's one small note to be added to this tactical advice to Manchester United; Do not under any circumstances give the ball away in Real Madrid's box with only three or four back in defence and do not under any circumstances win a corner. Or feed them after midnight. It's the counter-attack where Real Madrid are outrageously dangerous. Sevilla were yet another team who found that out on Saturday in a 4-1 defeat with the fourth goal coming just ten seconds after possession was lost by Sevilla in Real Madrid's half. "If you don't finish your moves off, they are going to run at you and kill you," said Getafe boss Luis García ahead of a match that saw a trade-mark counter attack move finished off by Cristiano Ronaldo two weeks ago.
The speed of thought from footballers like Mesut Özil and Angel di María that so seems to be missing when the players have possession and plenty of time to consider their next move is nowhere to be seen when they are tearing from one side of the field to the other. It's another aspect completely lacking from the Spanish side in comparison with last year's title-winning version which blew opponents away with perseverance, impressive energy levels but most importantly of all, intensity.
Handing over the initiative and even grabbing a goalless draw against Real Madrid would give an enormous advantage for United in the second leg of the last-16 clash. Whilst Madrid remain unbeaten for over a year in the Santiago Bernabéu, they have been lamentable on their travels this season having lost in la Liga to Sevilla, Betis, Málaga, Granada and Getafe. Form in the Champions League has been no great shakes either with Real Madrid losing at Dortmund and drawing against Manchester City.
But it's the Champions League where a desperate Real Madrid have put all their hopes this season, with the league lost back in December and the Copa del Rey looking iffy with a semi-final second leg against Barcelona to come. Defeat to Manchester United is unthinkable in the Spanish capital. Indeed, such is the hype in Spain in regards to the importance of the match, it seems to have been completely overlooked that there would still be two more rounds to be faced before the final, and Barcelona or Bayern Munich could easily pop up once again to block Madrid's path to the fabled Décima, or tenth European title.
With strikers Karim Benzema and Gonzalo Higuaín both out of form, Angel di María and Mesut Özil merely sporadic in their effectiveness, all hopes are once again with Cristiano Ronaldo, who scored his fifth hat-trick in all competitions this season against Sevilla on Saturday to nudge his league tally for the campaign to 24. Having scored 181 goals in 179 games for Real Madrid since a move from Manchester United in 2009, the €90m spent on the football who is getting better and better as he ages now seems like one of the biggest bargains in football.
However, a swift counter-attack and Cristiano Ronaldo alone won't be enough to survive the double-header against Manchester United. Real Madrid are going to have to rediscover last year's form. At their best, the Spanish side have more than enough to take them through to the quarter-finals. But their best has been produced all too little this season.