Ronaldo plan needed
There was a sense of the inevitable about Cristiano Ronaldo etching his name on the scoresheet against his former employers and while United have been praised for some stellar defensive work on the night, Matt Stanger is convinced they need to do more to quell the threat of the Portuguese
By Matt Stanger
Last Updated: 14/02/13 10:30am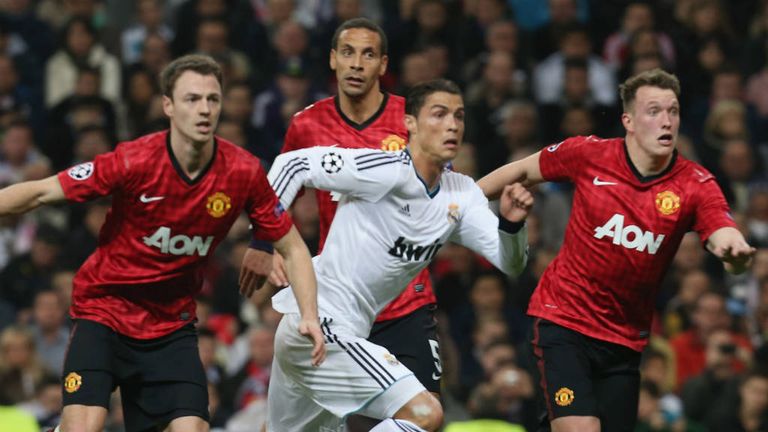 Although Cristiano Ronaldo faded in the final 20 minutes of Manchester United's hard-earned 1-1 draw against Real Madrid, Sir Alex Ferguson will want his team to be better prepared when they face their former star again on March 5.
Before United's clash with Real at the Santiago Bernabeu, Ferguson said that "if one team knows about Ronaldo it's us", but the manager's plan to control the Portuguese forward was far from watertight as Ronaldo scored the hosts' equaliser and continued to be a menace despite tiring towards the end of a pulsating encounter.
It may be almost impossible to negate the threat of a player as talented as Ronaldo and he was always going to create chances both for himself and his teammates. But while an impressive United team certainly didn't corrode under the Bernabeu's bright lights in their 'acid test', Ferguson will still want to re-think his answer to the most difficult question he has faced this season.
Despite rumours that Phil Jones would be tasked with a man-marking role after his solid performance against Marouane Fellaini at the weekend, Ferguson was confident in Rafael's ability to control Ronaldo before kick-off.
"He's Brazilian so he doesn't fear a thing," said the manager. "I trust him and have faith in him tonight."
With Jones playing just inside Rafael and the usually combative Wayne Rooney selected on the right wing, it seemed that United were well equipped to deal with the considerable challenge. Indeed, Ferguson's plan to soak up pressure before hitting Real on the break was undoubtedly more convincing than his approach in United's last two fixtures of similar magnitude, against Manchester City last April and Barcelona in the 2011 Champions League final.
But although Rafael has impressed this year - his 31 minutes against Reading aside - he failed to display the fearless composure his manager had hoped for, and a nightmare first half was compounded by an avoidable caution. Ahead of Rafael a red-faced Rooney, who bore the appearance of a hot and sweaty Brit abroad, completed only eight of his 17 passes before the interval as United's right flank was repeatedly plundered.
The problem with attempting to constrain Ronaldo is that his physical attributes and movement across the front line make him incredibly difficult to mark. As Rafael attempted to track the forward inside, huge gaps opened up on the left for Mesut Ozil and Fabio Coentrao to exploit. And it was after he switched wings with Angel Di Maria that Ronaldo found space in the penalty area to rise above Patrice Evra and head home Real's equaliser.
It is for this reason that Ferguson may focus on cutting the supply lines to Real's star player in the return match rather than entrusting his defenders to deal with the threat as and when it arises. There is a view that the best way to stop Ronaldo is to cut off the supply line from Xabi Alonso, and in that respect Rooney would be better utilised in a central role behind Robin van Persie, where he can drop deep to pressure Alonso.
Although Ronaldo found less joy in the second half against Evra on the left, and in the centre as Jonny Evans and Rio Ferdinand scrambled the ball to safety on several occasions, his ten attempts at goal - almost as many as United managed in total - shows that he certainly wasn't deprived of chances.
On a better night, Ronaldo would surely have punished United and Ferguson, who still remembers Arjen Robben's sucker punch at Old Trafford in 2010, will use the next three weeks to consider how his team can limit the forward's theat and hold onto their advantage to reach the quarter-finals.
This article first appeared on Football365