Real Madrid's defending and Barcelona's brilliance analysed on Revista
Guillem Balague told Revista Real Madrid's set-piece woes could cost them the Champions League.
Last Updated: 20/03/13 12:14pm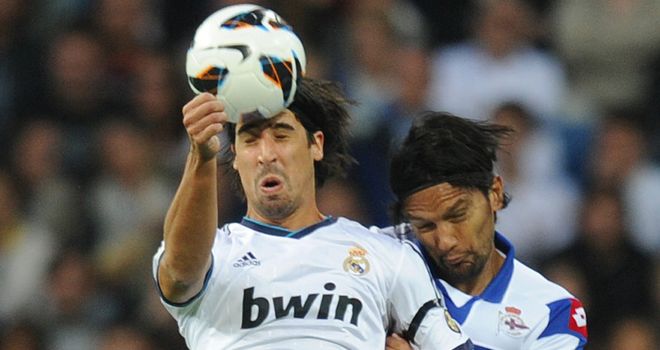 Los Blancos sunk Mallorca 5-2 at the weekend but both goals they conceded came from crosses into the box - a weakness which has been exposed throughout the current campaign.
Real have plenty of height and strength in their side - Luka Modric and Fabio Coentrao were the only players under 6ft in their starting XI against Mallorca - but have conceded 48 per cent of their goals from set-pieces this season (the second highest in La Liga) and 22 per cent from corners (the highest in the division).
Balague, like Real boss Jose Mourinho, believes the reigning champions are falling short in this area due to individual errors, rather than poor coaching, and warned the players must sharpen up if they are to progress beyond the quarter-finals of Europe's premier club competition.
"Those stats show the work put in by the coaches doesn't get put onto the field," he said. "Of the 14 they've conceded in set-pieces Sergio Ramos made individual mistakes in four of those goals.
"It doesn't matter how hard they work in training or how many videos you watch as, according to Mourinho, those individual mistakes expose the team defensively. It has been the talk of the town in the last few weeks because how far they go in Europe is going to be down to the little details."
Former Barcelona and Chelsea defender Albert Ferrer agrees and suggested Real's threat from set-pieces in the opposition's box shows concentration is to blame for their failure to deal with crosses when they are defending.
"When Real attack they are strong from set plays or corner-kicks, so it's more a lack of concentration," he said. "You can be very tall and very strong but if you're not switched on anything can happen.
"As a manager you can choose the way you defend set plays, whether you defend in zones or mark, depending on the other team but the players mustn't lose their men and must concentrate - there are not many more excuses."
Convinced
Barcelona, meanwhile, secured their spot in the quarter-finals of the Champions League last week after thrashing AC Milan 4-0 at home to overturn the 2-0 first-leg deficit they picked up at the San Siro.
Revista pundit Graham Hunter reckons the Catalans, who will combat French outfit Paris-Saint Germain in the last eight, have rediscovered their mojo following La Liga and Copa del Rey defeats to Real Madrid and their European reverse in Milan.
Meanwhile, Ferrer and Balague feel the way Barcelona approached their clash with the Italian giants, as well as Sunday's 3-1 win over Rayo Vallecano, could usher in a new era of football for the Camp Nou clan.
"Barcelona were humiliated by Real and there was big pressure on them going into (the second leg against Milan), but I've never seen this group of players more convinced that they were going to win," said Hunter. "They had no doubts.
"That was because of a team meeting they had after they lost to Real, in which the correct things were said, the inch-perfect training they had before the game against Milan, and knowing that if they played to their skill level and at the right tempo they would take their opponents apart."
Ferrer said: "They played like Real Madrid against Milan in that every time someone in midfield got the ball, there were three or four players running forward like crazy.
"They had never played like that before but they played like that against Rayo, too, so they are moving forward and have a plan B, something that was needed."
Balague added: "This is a Barcelona swansong; Xavi is going to pick his games, I don't think Pedro will get back to the level he was at, while David Villa will leave.
"That classic Barcelona of three years is disappearing - but maybe a new, more direct Barcelona will appear with Cesc Fabregas as the axis."