Tito Vilanova will stay on as Barcelona coach, says Guillem Balague
Tito Vilanova has yet to win over the Barcelona board, says Guillem Balague, but will keep his job.
Last Updated: 01/05/13 11:27am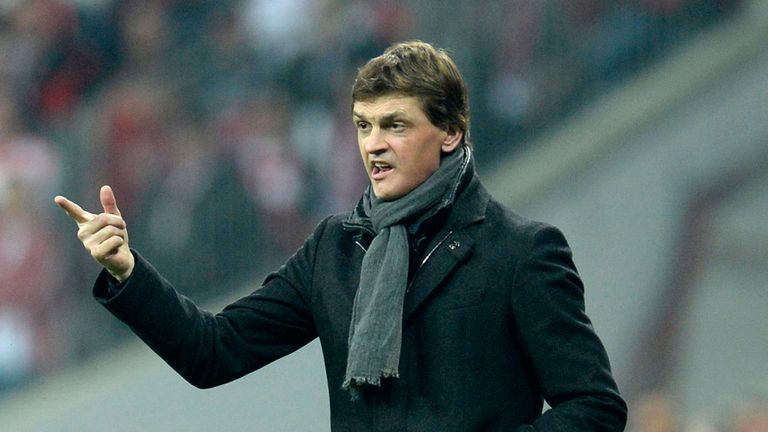 Vilanova, who replaced Pep Guardiola as Camp Nou chief last summer, has taken the club to the verge of regaining the La Liga title but they seem destined to bow out of the Champions League at the semi-final stage after a 4-0 first leg defeat to Bayern Munich.
The 44-year-old has spent time away from the dugout this term to undergo cancer treatment and Spanish-football journalist Balague says that has left the Barcelona hierarchy unable to make a full assessment of his qualities.
But he reckons Vilanova, who formerly played as a midfielder with Celta Vigo and Mallorca before managing Barcelona B and assisting Guardiola with the Catalans first team, has faltered at vital times.
"The feeling Barcelona had when they appointed Vilanova to replace Guardiola was that it was a win-win," said Balague, who also revealed that Carlo Ancelotti is the most likely candidate to replace Jose Mourinho should the Portuguese leave his post as Real Madrid manager this summer.
"Vilanova knew the players so it could have worked well and been a perfect transition from Guardiola, but if it worked badly it gave them a year to choose another manager.
"The fact he has been ill has made the decision difficult and while the board are divided between giving him another chance or not, he is going to stay on - but at the crunch times in the big games he has failed to make an impact."
Mismanaged
Athletic Bilbao boss Marcelo Bielsea is likely to depart La Liga this term, though, with Balague stating in his latest skysports.com column that the Basque side's B team coach, Cuco Ziganda, will take the Argentine's job.
Former Chile chief Bielsa propelled Bilbao to both the Europa League and Copa del Rey finals in the 2011/12 season, as well as to a 10th-placed finish in La Liga, but Los Leones have found things tougher this campaign and are perched in the bottom half of the Spanish top flight.
Revista pundit Graham Hunter thinks the 57-year-old has worn out his players, while he also slammed the Bilbao board for their treatment of striker Fernando Llorente, who has been in and out of the starting line-up since he signed a pre-contract agreement with Serie A giants Juventus.
"I think that Bielsa has mismanaged his resources and burned out his players physically and mentally," said Hunter. "He has no grey areas, doesn't step back or alter his way of acting.
"[Aritz] Aduriz has been fantastic up front for Bilbao, but Llorente should not have been treated the way he has by the board.
"They have bullied a tremendous player, and they and the manager have stripped competitiveness out of this squad."
To hear the panel's thoughts on Ancelotti's potential move to Real Madrid and the future of Los Blancos superstar Cristiano Ronaldo, hit this link.