Ancelotti factfile
On the day Carlo Ancelotti is confirmed to take over at the helm of Spanish giants Real Madrid, we look back on the Italian's much decorated career to date. He's enjoyed plenty of success in the past; which is only a good thing as his new employers will demand silverware from day one...
Last Updated: 25/06/13 1:37pm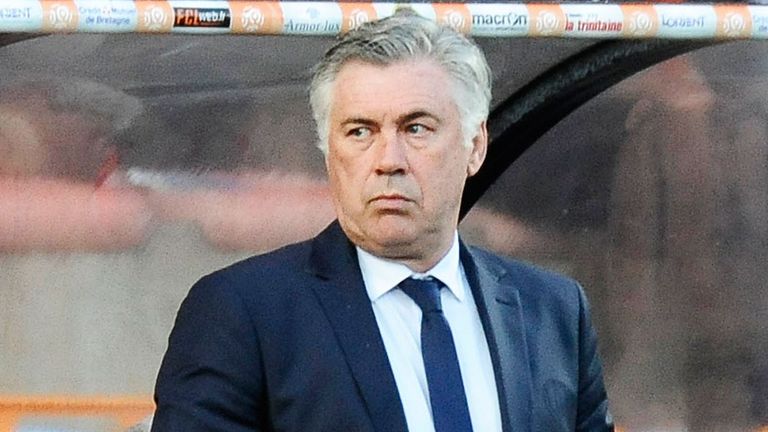 How do follow the Special One? If you're Real Madrid you call for the humble one, albeit a humble one with a first class record. The ever popular Carlo Ancelotti joins the Spanish titans on a three-year contract acutely aware that he'll be expected to deliver silverware - immediately. Thankfully, the Italian's stellar track record suggests he might be able to do just that. Here, we look back on career that has taken in several of Europe's top clubs, both as a player and manager.
1959: Born June 10 in Reggiolo, Italy.
1976: Begins professional playing career with Parma.
1980: Wins Coppa Italia with Roma, who go on to win the trophy again in 1981, 1984 and 1986.
1983: Part of the Roma side that wins the Serie A title.
1988: Wins domestic title in first season at AC Milan.
1989: Part of the Milan side which wins the European Cup, beating Steaua Bucharest 4-0 in the final.
1990: Milan retain European title with a 1-0 win over Benfica. Ancelotti is part of the Italy squad for the 1990 World Cup on home soil, where they lose in the semi-finals to Argentina.
1992: The Rossoneri win the Italian league title. Ancelotti retires from playing.
1995-96: Takes up his first coaching post with Serie B side Reggina. Leads the side to promotion to the top flight, before leaving to join Parma.
1998: Appointed manager of Juventus.
2001: Steers Juve to consecutive second-place finishes in 1999-2000 and 2000-01.
2001: November - Appointed manager of AC Milan.
2003: Manages Milan to Champions League glory as they beat Juventus on penalties in the final at Old Trafford.
2004: Leads Milan to Serie A title.
2005: Milan lose the Champions League final to Liverpool on penalties, having led 3-0 in Istanbul.
2006-07: Milan begin the season docked eight points for their part in the 'Calciopoli' match-fixing scandal.
2007: Gains revenge on Rafael Benitez as Milan beat Liverpool 2-1 in the Champions League final in Athens.
2008: Milan miss out on Champions League qualification for the 2008-09 season.
2009: May 31 - After guiding Milan back into the Champions League, Ancelotti confirms his contract with the club has been mutually terminated.
June 1 - Confirmed as new Chelsea manager on three-year contract.
2010:
March 16 - Chelsea crash out of the Champions League as former Blues boss Jose Mourinho leads Inter Milan to a 3-1 aggregate victory over Ancelotti's men in the last 16.
May 9 - Wins Premier League title at the first attempt, the Blues sealing the crown with an 8-0 demolition of Wigan on the final day of the season.
May 15 - Chelsea complete the double with a 1-0 win over Portsmouth in the FA Cup final.
2011:
March 20 - Chief executive Ron Gourlay reveals Ancelotti's position will be reviewed at the end of the season.
April 12 - Chelsea are beaten 2-1 in Champions League quarter-final second leg by Manchester United.
May 8 - A 2-1 defeat to Manchester United all but ends the title race, United subsequently clinching the prize with a draw at Blackburn.
May 22 - Parts company with Chelsea shortly after the season-ending 1-0 defeat at Everton.
December 30 - Appointed manager of Paris St Germain.
2012:
March 31 - Suffers his first league defeat in his 30th game - a 3-1 reverse at Nancy.
May 20 - Despite winning their last four games, PSG miss out on the Ligue 1 title to Montpellier.
July - PSG spend over 100m euros on players including Ezeqiuel Lavezzi, Thiago Silva, Zlatan Ibrahimovic and Marco Verratti.
2013:
December 1 - A third defeat in five games - 2-1 away at Nice - sees PSG slip to fourth place in Ligue 1, fuelling speculation about Ancelotti's future with Arsene Wenger linked with his job.
December 16 - A 1-0 win at home to Lyon sends PSG to the top of Ligue 1, where they would remain for the rest of the campaign.
January 31 - Ancelotti makes what is to be his last PSG signing, bringing David Beckham to the French capital.
February 20 - French newspaper Le Parisien report that Ancelotti has verbally agreed to join Real Madrid for next season.
April 10 - PSG knocked out of Champions League by Barcelona on away goals at quarter-final stage.
May 12 - A 1-0 win away at Lyon secures the Ligue 1 title for PSG. It is their third triumph and first since 1994.
May 19 - Asks to be released from his contract in order to fill the imminent vacancy at Real Madrid. PSG refuse to release him.
June 25 - Confirmed as Real Madrid coach.