The contenders
Sky Bet identifies the contenders who've attracted the most interest in the betting market on the next manager of Barcelona.
Last Updated: 22/07/13 9:34am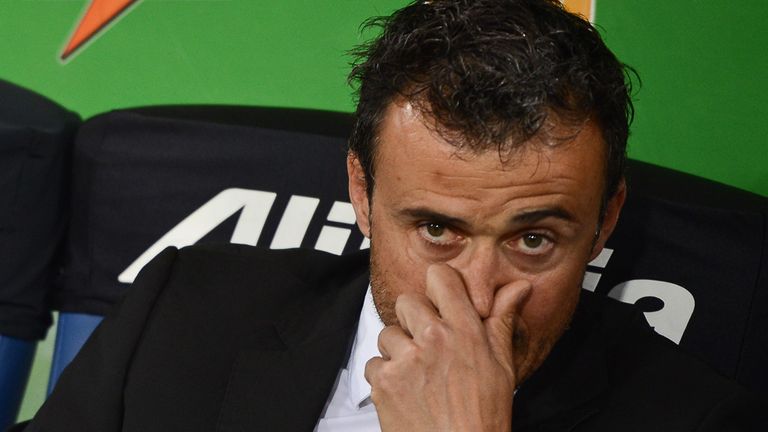 With the shock news that Tito Vilanova has stepped down as manager of Barcelona, the club have revealed they expect to be in a position to announce his successor by next week.
In what is one of the most coveted jobs in sport, the club are known for promoting from within, but Jordi Roura looks to be out of the running having endured an indifferent spell during his caretaker stint last season.
Thus, Barcelona may be forced to look externally. Below, Sky Bet identifies the contenders who've attracted the most interest in the frequently fluctuating betting market on the next manager of the club.
Gerardo Martino
Although he holds no obvious connection with Barcelona, former Paraguay coach Gerardo Martino has emerged as a contender for the position. When Malaga were on the lookout for a replacement for Manuel Pellegrini they eyed up Martino, who has been in demand since stepping down from a successful stint at Newell's Old Boys. However, Malaga eventually opted for former Real Madrid boss Bernd Schuster, while Martino subsequently turned down the chance to manage Santos, who are freshly flush from the sale of Neymar to Barcelona.
Click here to see Martino's latest odds with Sky Bet
Luis Enrique
Enrique spent eight years and racked up over 200 appearances with Barca during his playing days before moving into the coaching set-up. However, rather than progress through the ranks as is the norm, Enrique opted to take over at Roma, where he endured a relatively unsuccessful spell, before returning to Spain this summer to take over at Celta. Having only taken over at Celta last month, he's unlikely to head the board's shortlist but, as with all former Barcelona players, the chance to return to the Nou Camp can so often be too good to turn down.
Click here to see Luis Enrique's latest odds with Sky Bet
Marcelo Bielsa
If, as suggested by many, Barca have already got a replacement lined up, then it quite possibly could be a manager currently out of work. Bielsa fits the bill in that sense and has experience of working in La Liga, the former Espanyol boss having left Athletic Bilbao this summer after three years at the helm. Despite a knack of attracting controversy, the 57-year-old is highly regarded within the game and is considered a pioneer of the possession game, with former Barca boss Pep Guardiola speaking of him in particularly glowing terms.
Click here to see Bielsa's latest odds with Sky Bet
Andre Villas-Boas
The Tottenham manager is still held in high regard in many quarters, despite his disappointing spell at Chelsea and failing to see Spurs over the line in their top-four quest last season. Villas-Boas, 35, established himself as one of the game's most promising bosses in becoming the youngest manager ever to win a European title by leading Porto to Europa League success in 2011. Highly regarded for his analysing qualities, 'AVB' was considered somewhat of a protégée of Jose Mourinho as he worked as his countryman's assistant at various clubs before stepping up to management.
Click here to see Villas-Boas' latest odds with Sky Bet
Michael Laudrup
Of all the players to have turned out for both Real Madrid and Barcelona, Laudrup is arguably alone in being held in high regard with both sets of supporters. The Swansea boss was linked with the recent Real Madrid post and is now being touted as a possible replacement for Vilanova. The Dane won four Primera Liga titles as a player with the Catalan club but has already moved to quash speculation linking him with the managerial vacancy having mended some minor communication issues with his board at Swansea.
Click here to see Laudrup's latest odds with Sky Bet
Jupp Heynckes
Heynckes seemingly bowed out of his managerial career on the highest of highs as he led Bayern Munich to their first ever treble before retiring. Despite his planned retreat, the German was reportedly tempted to prolong his career with a return to Real Madrid, before the Spaniards eventually secured their number one target Carlo Ancelotti, so a return to management is not totally out of the question. At 25/1 in Sky Bet's market on the job, he's considered an outsider for the post.
Click here to see Heynckes' latest odds with Sky Bet
Roberto Mancini
Mancini is also available after leaving the Etihad Stadium this summer, having been relieved of his duties despite leading Manchester City to their first Premier League title in 2012. Mancini also won Serie A three successive times at Inter Milan and enjoyed Copa Italia success at Fiorentina and Lazio. However, having spent his entire playing and managerial career in Italy and England, Mancini does lack experience of Spanish football and is considered a major outsider.
Click here to see Mancini's latest odds with Sky Bet
Rubi
Barca's tradition of promoting from within has led to speculation that little-known Rubi could be the man to step up into the hot seat. However, he only took up his current position as assistant this summer after leading Girona to the Secunda Division play-offs in his first season in charge. With limited managerial experience, none of which has come in La Liga, and only a brief amount of time at the Nou Camp, it would surely be a significant gamble to hand him the reins. He's been a popular choice in the betting market, though.
Click here to see Rubi's latest odds with Sky Bet