Is Soldado the man?
With Tottenham agreeing a deal for Valencia striker Roberto Soldado, Adam Bate examines the qualities that the Spain international will bring to White Hart Lane.
Last Updated: 01/08/13 2:37pm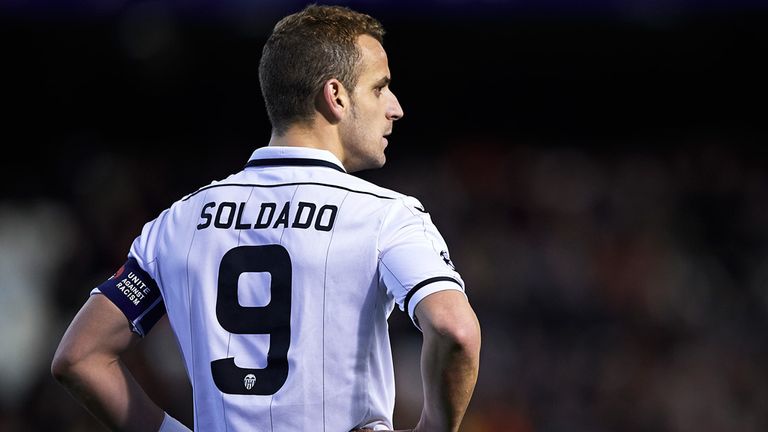 Vicente Del Bosque cut straight to the point when praising his centre forward after seeing Spain beat Venezuela 5-0 last year. "I have to commend Roberto Soldado," said the coach of the world and European champions. "Because he did what a striker should do - finish."
It wasn't always that way for Soldado, whose wastefulness in front of goal was criticised as a youngster and saw him go five years between international caps. But the 28-year-old Valencia man has developed into a remarkably consistent goalscorer, with only Lionel Messi and Cristiano Ronaldo scoring more Primera Liga goals over the past four seasons. It is no wonder he was a target for Tottenham.
Spurs' search for a striker has become a recurring theme in recent seasons, reaching a nadir in the 2010-11 campaign when Roman Pavlyuchenko, Jermain Defoe and Peter Crouch netted just 18 Premier League goals between them. Last season saw Defoe and Emmanuel Adebayor share striking duties and their tally of 16 goals once again fell some way short of expectations.
Demands
Defoe started the campaign well and appears to have improved his link-up play while retaining his pace beyond his 30th birthday. Although not physically suited to the traditional demands of the lone forward role, his ability to stretch the play and create space for the marauding Gareth Bale proved a valuable asset under Andre Villas-Boas, given the manager's penchant for the high defensive line.
But Defoe saw his form fade from October and of the 10 goals the England international netted in his final 33 games of the season, four came in the Europa League against Maribor and Panathinaikos. With Adebayor enduring a predictably disappointing campaign after signing on a permanent basis, the two men combined to boast some alarmingly unimpressive conversion stats.
Defoe's 11 Premier League goals represented a paltry return for his 108 efforts on goal, while Adebayor managed just 42 shots all season - finding the net with just five of them. It is here that the contrast with the more ruthless Soldado is marked, with the Spaniard notching 24 goals from his century of shots for Valencia.
Shot conversion - 2012/13
Player
League apps
Goals
Shots
Conversion rate
Roberto Soldado
35
24
100
24%
Jermain Defoe
34
11
108
10%
Emmanuel Adebayor
25
5
42
12%
In this sense, Soldado is clearly an upgrade on the incumbents at White Hart Lane. He is technically sound with an ability to hold the ball up and can also offer intelligent movement away from the ball to create space for others - so important given Tottenham's goalscoring potential in the attacking midfield zones. The fact that he scored four headed goals last season should also be considered a bonus asset, given that Adebayor and Defoe failed to net a single header between them in 2012/13.
However, it is worth noting that Soldado is a very different proposition to Christian Benteke, the Aston Villa forward who was linked with a move to Spurs before penning a new deal at Villa Park. Soldado cannot offer the robust line-leading skills of the Belgian and does not thrive in aerial duels. While Adebayor won 40 per cent of his aerial battles last season, Soldado's 13 per cent success rate in the Champions League was inferior to the Premier League record of the diminutive Defoe.
As such, he is not necessarily the man to bring others into the game by winning the physical battle. This is an out-and-out striker who is not at his best when coming deep for the ball. Soldado is essentially a penalty-box poacher, as shown by the fact that all 24 of his league goals last season came from inside the area. His Champions League hat-trick against Belarusian champions BATE Borisov in October provided a good example of this, as the striker fired off almost as many shots as passes.
No matter. The most important thing Soldado can bring to Spurs is goals. As the prospect of Bale leaving for Real Madrid continues to grow, Tottenham's reliance on the Welshman becomes an imminent concern. Bale scored 32 per cent of the team's Premier League goals last season and was the true focal point of the attack. In this regard, it may be of interest to Villas-Boas - a coach as interested in the psychological as the tactical - that Soldado has a history of replacing star names.
In the summer of 2010, Soldado left Getafe to join a Valencia team shorn of both David Villa and David Silva. The pressure could have been suffocating but instead he embraced it to become a hero. "When I came here, I never expressed it openly, as in 'replacing David Villa'," Soldado told UEFA's Champions magazine last season. "But I was really conscious that if things didn't go well, that tag was going to weigh very heavily for a long time - not just in my own mind but for the press and fans."
Soldado responded to this challenge by taking responsibility and going on to become Valencia's captain. It is difficult to imagine Adebayor, for example, assuming this mantle so comfortably. And while Soldado might not possess the physical assets of the Togo frontman, or the game to be a like-for-like replacement for the club's Welsh wizard, this particular Spaniard looks to be the stand-out individual when it comes to ending Tottenham's long search for a top-class striker.