No makeweight
While Gareth Bale continues to be linked with a move from Tottenham to Real Madrid, Fabio Coentrao looks set for a switch in the opposite direction. Adam Bate looks at what the Portugal international can bring to the Premier League.
Last Updated: 03/08/13 6:33pm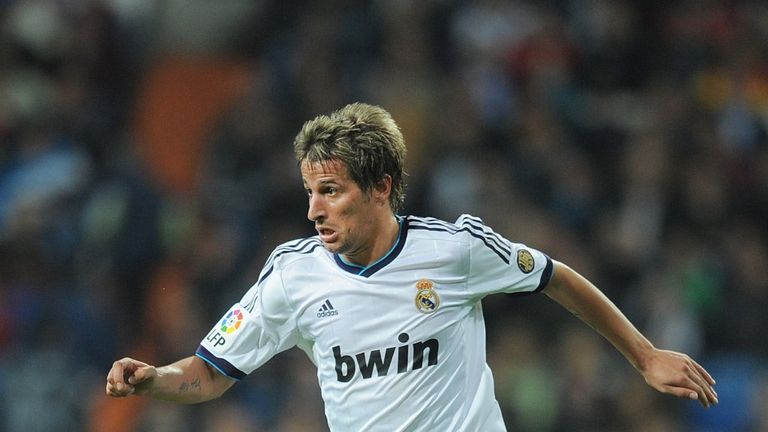 Just four summers ago, the dream move had turned sour for the youngster from Southampton. Gareth Bale was two years and 23 winless league games into his time at Tottenham and had lost his place in the first team to uncapped defender Benoit Assou-Ekotto. Famously labelled a flop, there were reports Bale could be offloaded to - horror of horrors - Birmingham City. The following year he scored a hat-trick in the San Siro and the journey to superstardom had truly begun. The left-back was converted into a left-winger.
Also in that summer of 2009, over in Lisbon, there were changes too. In a bid to limit the wait to five years - their second longest since the foundation of the Portuguese championship in 1934 - Benfica had turned to Braga boss Jorge Jesus. A fiery coach with a keen mind, Jesus spotted something in the club's unruly young prospect Fabio Coentrao. The left-winger was converted into a left-back.
Such is the relative status of the two positions, it is no surprise that Bale is the player who is the subject of a - *counts on hand* - nine figure bid. But that is not to say Coentrao's rise has not been significant in the intervening period too. This is the man that Cristiano Ronaldo described as "one of the best players in the world" upon the Benfica man's arrival in Madrid to fanfare of his own. Coentrao is capable of being far more than a mere makeweight.
Impressive
The transition to full-back has been an impressive one. Do not be fooled by the shock of peroxide blonde hair, Coentrao is a grafter. He started work at 13 years old and spent time as a baker and construction worker before his career in football took off. With enthusiasm and awareness, the Portugal international succeeded in turning himself into a top-class full-back within a season. "He's a great left-back," said countryman and team-mate Ricardo Carvalho earlier this year. "To the point where he has even made a few critics change their opinion about him."
Real Madrid player rankings - La Liga 2012/13
Fabio Coentrao
Ranking
Tackles
3rd
Interceptions
2nd
Blocks
1st
Dribbles
3rd
As Carvalho suggests, life has not been straightforward for Coentrao at Madrid. The player now feels so unloved in the Spanish capital that he recently told the Portuguese press he has not been wanted since day one. "Today it seems that everyone wants me to leave the club," said Coentrao. "I do not know what I have done wrong."
It's true that he has had to battle with Marcelo for the left-back slot and occasionally been used in unfamiliar roles at right-back or in central midfield. In January, there was a reminder of the ill-discipline of his youth when he was late returning from international duty.
Even so, it is surprising that Real would be willing to Coentrao leave. The statistics show that the 25-year-old ranked among the top three at the club last season for skills as diverse as tackling, intercepting, blocking and dribbling.
That's because Coentrao is not a typical converted winger. With little defensive cover provided by Ronaldo, tackling has had to become a key strength and his combative side could come to the fore in the Premier League. It is notable that in Real Madrid's UEFA Champions League victory away to Manchester United in March, Coentrao won more tackles than any other player on the field.
In addition, his passing has developed into a rather simple exercise at the Bernabeu as Coentrao has become used to feeding Ronaldo ahead of him on the left flank. Getting Ronaldo into the game is a priority, and so there is also an onus on the full-back to sprint forwards - frequently being asked to provide the wide option high up the pitch with the aim of creating space for his compatriot.
Emphasis
Tottenham also put significant emphasis on the role of the full-back under Andre Villas-Boas, where they operate as auxiliary attackers as at Madrid. Assou-Ekotto was injured for parts of last season but his crossing remained an important weapon for Spurs with his accuracy of 28.85 per cent being among the top three defenders in the country among regular deliverers of the ball.
This has the potential to be a strength of Coentrao too should he make the move to White Hart Lane. Here is a player with great technique as well as a fine passer and crosser of the ball - one who is now more effective attacking from deep where he can gather momentum with his driving runs. The Portuguese has shown he can both complement a winger and pose a threat of his own.
As a result, while Coentrao would have been the perfect man to assist Bale on the left just as he assisted Ronaldo, he also has the skill-set to develop into a potent weapon himself should the Welshman leave. Is £26million a lot of money for a left-back? Tottenham supporters should know better than to dismiss a player's capabilities based on his nominal position.