Calm and collected
While Jose Mourinho proclaims his happiness to be back at Chelsea, Tim Stannard thinks Real Madrid are just as pleased that they have a quieter life with Carlo Ancelotti.
By Tim Stannard
Last Updated: 08/08/13 4:05pm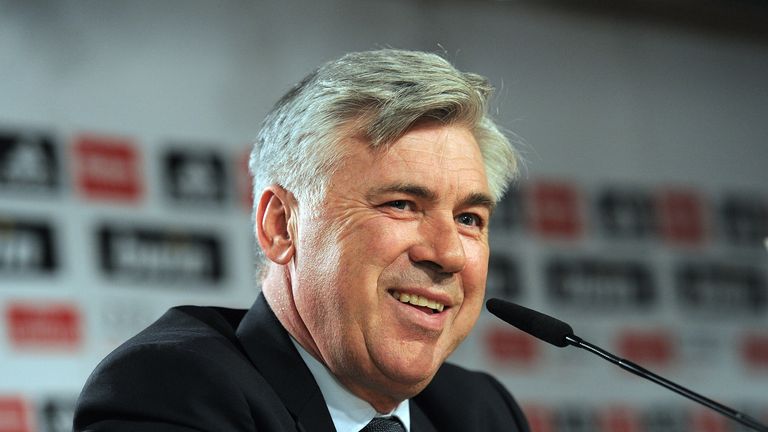 The latest Gareth Bale reports in the press currently place Florentino Pérez meeting with Daniel Levy in Miami, trying to persuade the Spurs boss into giving up on keeping the want-away Welshman.
"Is this enough? What about this? What about this? What about this?" is how the scene must be in the hotel conference room as the Real Madrid president writes increasingly large cheques and waves them in front of the non-plussed Premier League chairman.
Fortunately, Pérez has an awful lot of spare time at the moment, despite his Real Madrid side being in the middle of a US tour that saw victories over both Everton and Chelsea. There is plenty of opportunity for negotiations and the odd Mojito to ease the Spaniard through the day. After all, Carlo Ancelotti is in charge of the club these days and not a certain Portuguese professional trouble-starter.
After winning a renewed mandate as president of Real at the start of the summer, Pérez spoke about the pressures of running the football club compared to those that are born from heading up his construction company. "Sometimes there are 25 people who are amongst the best in the word, who cause more problems that the 200,000 employees of ACS," admitted Pérez.
The Madrid head should have made that figure 26 when Mourinho was in charge. There must have been texts every hour from the Madrid communication department over a three year period warning Pérez on the latest antics from his coach. "JM banging on about UNICEF conspiracies and Barcelona...JM said would never manage Málaga like Pellegrini...JM says Casillas is rubbish....JM tried to poke Tito Vilanova's eye out."
Indeed, there must have been a certain enjoyment at listening to the newly-crowned Happy One twittering away on Wayne Rooney and Arsene Wenger over the summer. Pérez probably did not even mind the apparent slur from the Chelsea boss when recalling that he had once had the pleasure working with the "true" Ronaldo, during his spell at the Camp Nou with Sir Bobby Robson.
After all, the local press in Spain could do all the outrage, whilst the Chelsea press department could deal with any complaints, should any be made. Either ways, revenge was swift from the Portuguese Ronaldo during Wednesday's International Champions Cup final against Chelsea. The Madrid forward had a grin from ear to ear as he knocked in a brace to put one past his former manager in a 3-1 win. Not that Mourinho seemed to care of course. "If we play them in the Champions League and lose then it's a different story," said Mourinho after the match, "but a summer tournament is a summer tournament."
Of course, Real Madrid's victory in the eight team competition spread out across the US owed itself to their former manager in the first place. "They are only playing this tournament as I arranged it and I am a professional," said Mourinho before the game, "I did it knowing I wouldn't be having pre-season with them."
It is these type of comments that are completely absent from Carlo Ancelotti's rhetoric, with the Italian coach keeping as low a profile as possible. The former Chelsea boss has instead focussed on tinkering with a new-look tactical strategy for the club, but with mostly familiar names. The only changes to a possible starting line-up for the team's opener against Real Betis on August 18th is Isco dropping into the creative hub midfield alongside either Luka Modric or Xabi Alonso. The dynamic Dani Carvajal is set to take the spot of Alvaro Arbeloa, who has completely lost it as a footballer over the past 12 months.
Ronaldo has been given a free role from Carlo Ancelotti who announced that "Cristiano needs to look for the spot where he wants to play. I'm not going to change his position. He needs to choose his position on the pitch." Meanwhile, Casillas has quite sensibly been restored in goal.
Pre-season form is never an indication of what will happen when the real football action takes place, but Madrid's progress shows that there is a gradual evolution underway in terms of a more patient build-up and greater flexibility in the roles of the forward line.
But the biggest victory delivered by Ancelotti so far in his short spell at Real Madrid is the quiet, drama free life delivered by Florentino's latest managerial charge. Pérez was keen to praise the "serenity and seriousness" of the Italian at his presentation in June. So far the new Madrid manager is delivering on those attributes.
This article first appeared on Football365