Deserved recognition
The news that Rickie Lambert has been called up by Roy Hodgson for England's friendly international against Scotland on Wednesday has been met with a mixed response. But Adam Bate believes the Southampton forward has presented a strong case for being the best man for the job.
Last Updated: 09/08/13 10:33am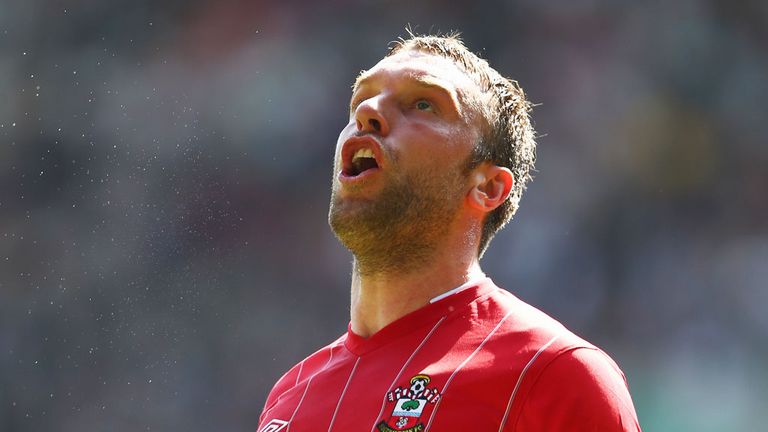 "This is a man who has come up the hard way," Roy Hodgson told Sky Sports after calling up 31-year-old Southampton forward Rickie Lambert. "I first came across him playing for Bristol Rovers when I was at Fulham about five or six years ago. I remember discussing him as a potential transfer target at the time, but the obvious question was how can a player in League One become a success in the Premier League? I think a man who has really worked hard to prove his worth over the years like Rickie Lambert has fully deserves this call-up."
Deserves. It's a funny old word. While a teenage Jack Butland can be awarded an England cap after a handful of performances for Cheltenham Town and see the news greeted with excitement by all and sundry in the parish, a player of Lambert's age can clutch a creditable CV in his fist but still be forced to endure shifty looks from the locals and murmurs of discontent as he strolls into town. Sorry pal, the face doesn't fit. We know what hopes and dreams look like and you're not it.
Lambert's goalscoring record certainly suggests that this is a call-up few can quibble with. The Saints striker scored an average of 27 goals per season in the four years preceding his debut campaign in the top flight last term. His subsequent tally of 15 Premier League goals for the newly-promoted side was a number that no English footballer was able to surpass.
Of course, there are always going to be flare-ups - those briefly deserving candidates enjoying patches of the purple variety. Michael Ricketts and Jay Bothroyd are both in possession of England headgear after a flurry of goals caught the attention of the Three Lions coach, but neither man seems to have troubled the vidiprinter since. A slight problem for Ricketts given that his call-up came 11 years ago.
Snobbery
More recently, Grant Holt mounted a plausible case for Euro 2012 selection after hitting that same 15 goal target in the Premier League for Norwich but found himself ignored. And aggrieved. A teammate of Lambert's from their Rochdale days, Holt remains frustrated by the snobbery that sees academy graduates feted and vocational workers shunned.
"It bugs me when a squad is called and I don't hear Rickie Lambert's name mentioned once, not one breath, and he's on form, scoring, similar to what I did last year," said Holt in March. "Is it the 'fashionable club' thing? Are we so stuck in our ways that you have to be at Manchester United, Arsenal or Tottenham? If I'd been at Arsenal as a kid, and done what I'd done last year for Arsenal, would I have got in the squad? Yes."
Holt's views are earnestly held and he has some justification for his grievance. But in truth, any comparison with Lambert beyond his similarly burly physique flatters the Wigan man. While Holt is the apex predator of lower-league triers, Lambert is another beast entirely.
As their former Rochdale boss Steve Parkin recently pointed out in a revealing interview in The Independent: "Rickie was different in terms of his ability. He has got incredible natural talent, he could see a pass, set up a goal, or score a goal, with his left foot, his right foot, or his head. He was blessed with natural ability that not many players are given. That is what set him apart from the rest."
Style
Lambert's current boss Mauricio Pochettino seems to agree. The striker's mere presence in the successful Southampton team that enjoyed back-to-back promotions playing a fast and fluent style would indicate there is more to his game. But Lambert's ability to shine in Pochettino's system suggests international football would not be the leap it is characterised to be.
"For me, he's an extraordinary footballer," Pochettino told reporters soon after his appointment at St Mary's earlier this year. "When I see his career, I'm surprised he hasn't played longer in the Premier League. He has many qualities and none are outstanding over the others. It's well known he's a good player, he can shoot well and he's skilful."
Chances created - PL 2012/13
Player
Team
Chances created (open play)
Luis Suarez
Liverpool
85
David Silva
Man City
81
Rickie Lambert
Southampton
80
The statistics show that Lambert's skills do indeed extend well beyond the not insignificant feat of putting the ball over the line and into the net. This is a footballer with the chance creation of a playmaker, bringing others into the game in his own way by pulling away on the diagonal and releasing runners from midfield. In open play, only Luis Suarez and David Silva could match Lambert for key passes to teammates in the Premier League last season.
Lambert is an unselfish player who has demonstrated he can work well in a progressive system. As a result, he need not be seen as a blunt instrument to be used as an option of last resort - the one-man Plan B to be used from the bench. Despite his comparative pedigree, that's a role more suited to Andy Carroll. The graphic of Southampton's wins over Liverpool and Chelsea in March indicates that Lambert - as you would expect of a one-time midfielder - is comfortable receiving the ball in wide positions and involving himself in the build-up play.
Perhaps the biggest problem that a player of Lambert's age must face when making the transition to international football is the mental one. It's a curiosity given that a career can be forged in an England shirt by plundering second-class opposition, but believing you belong is part of the challenge. And yet, this is another area of strength for Lambert. "What surprised me is his mentality," said Pochettino in praising his striker. He is unlikely to shrink in the shirt.
So can he play a part for England at the 2014 World Cup if they get there? Regardless of whether the chance is deserved, there are sceptics. Matt Lawton, sports editor of the Daily Mail, was quick to tell his Twitter followers: "Nice to see players like Lambert given a chance but puzzled all the same. Will he be in Brazil next summer? Will he ****. So the point is?" Picking the best candidate for the job, perhaps? It's a novel idea. Let's hope it catches on.