Barcelona: New manager Gerardo Martino will make alterations
Gerardo Martino says he will not change Barcelona's philosophy. Guillem Balague says he will...
Last Updated: 20/08/13 10:43am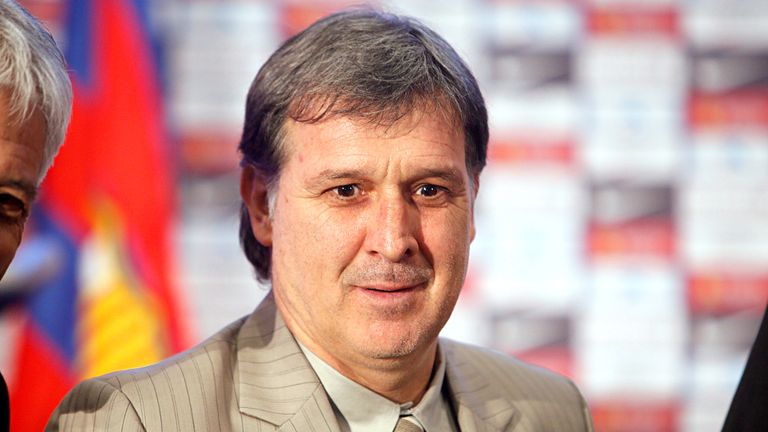 I would imagine that little by little Martino will try to impose his ideas; he wants to maintain the same style but he also wants to recover the essence of Barcelona and press high.
That is down to attitude and he is getting the right attitude from the players but Levante were a poor team who didn't really work hard enough and made a lot of defensive mistakes.
There are some fascinating stories developing at Real Madrid, meanwhile, and the big one is obviously the goalkeeping position; I think Iker Casillas and Diego Lopez will rotate with Casillas being the number one in the end.
Karim Benzema is also the only number nine, so will Real buy another one? Depending on what happens with Gareth Bale, they might, but as it is late in the transfer window there are not that many players available.
Relax
Real also don't have a defensive midfielder and are going to have to work with Xabi Alonso and Casemiro - though I think Casemiro will have a really big season - while the players feel that without Jose Mourinho nearby they can relax a bit more.
Relaxing, though, means that they will leave lots of gaps, not pressure and rely on the guys up front, so there is still a difference between what Carlo Ancelotti wants and what the players are delivering.
Finally, I am going to suggest some young players that are going to make an impact in La Liga and I would like my readers to let me know their opinions after watching them on Sky Sports.
These players are Casemiro (Real Madrid); Patrick Ebert (Real Valladolid); Juan Bernat (Valencia); Joan Verdu (Betis); and Beñat Etxebarria (Athletic Bilbao).
Let me know what you think and we will talk about them in more detail in the weeks ahead.
Guillem answers your questions...
Got a question for Guillem? Then send it in using the feedback form below, and then look out for his answer next week...
CESC'S JUST FAB?
Hi Guillem, Can you not see the talented Cesc Fabregas as an immediate replacement for Xavi? A talented footballer who is determined to be a first-choice player at Barcelona and has been from such a young age, despite the recent talk of a move to Manchester United. Alan Bogle
GUILLEM SAYS: Cesc is not a Xavi, he never has been, not even when he was a youngster. He has to play further forward because his influence is in the final third and you could see that against Levante when he was fantastic. He appeared on the right, on the left, everywhere and could have scored. Yes, he is talented; yes, he is determined to become a first-choice player; but he is not a Xavi replacement. He is more offensive and a mixture of Andres Iniesta and Messi.
DEFENSIVE ISSUES
Hi Guillem, Being a Barca fan I am worried about the whole club. Why are they not buying an established centre-back? Haroon
GUILLEM SAYS: Barcelona have tried to sign established centre-backs in David Luiz and Daniel Agger but they do not want to spend more money than what they have already offered. It might be a strategic move, but Martino has said they have Adriano, Carles Puyol, Javier Mascherano, Gerard Pique, Marc Bartra and Frank Bagnack, a young player from the youth team. Plus, he wants to develop a Barcelona that defends high up the pitch and not in the centre-back positions.
MONEY MATTERS
Is there any chance the Spanish clubs excluding the top two, could put a unified front up and challenge the poor structure and cash distribution in the Spanish league. I ask this with some interest as not only does it lower the quality of La Liga but distorts the transfer market (admittedly assisted by a handful of billionaire boy's toy clubs) or is there no hope for a fairer system? Stephen
GUILLEM SAYS: I understand that the distribution of television money is really key but you have to understand that not everything is down to that. For 10 years Spanish clubs have been getting more television money but the debts keep growing at a bigger rate, which means clubs have been badly managed and have not known how to use the money. Now, though, clubs are trying to reduce the debts and that means the level of the second-tier teams in La Liga will diminish for a few seasons, but there is still a lot of quality at Atletico Madrid, Sevilla, Valencia and Real Sociedad and they will make an impact in Europe.
TOP STRIKER
Hi Guillem, What are Southampton getting in Roma's former Espanyol striker Pablo Osvaldo? Thanks, Pete Russell
GUILLEM SAYS: Osvaldo has been a bit injury prone but he is a finisher who is very fast and full of character. He is a top striker but he only showed that for six months at Espanyol and not consistently at Roma. However, he is back with Mauricio Pochettino now who really likes him.