Pep v Jose
As Chelsea prepare to face Bayern Munich in the UEFA Super Cup on Friday evening, Adam Bate takes a look at the touchline reunion between Jose Mourinho and Pep Guardiola. Two very different characters whose careers appear destined to remain intertwined...
Last Updated: 30/08/13 10:40am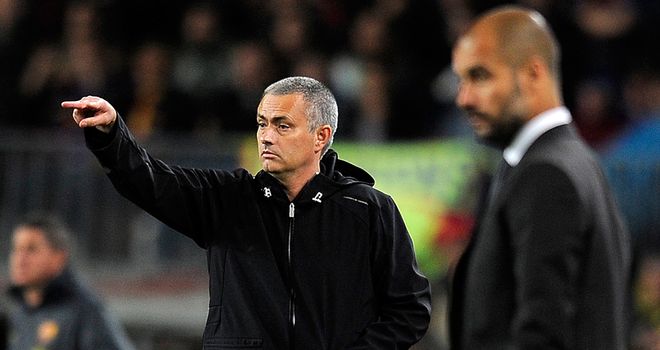 When Pep Guardiola chose to leave Barcelona it was with a heavy heart. He knew he was walking away from the club he loved. And despite all the stress and strain, he knew he would miss it. But one thing he wouldn't miss was Jose Mourinho and a rivalry between the then managers of Barcelona and Real Madrid that had become something of a sideshow in Spain. A rivalry that played a significant part in Guardiola's decision that he could not continue at the Camp Nou. Bayern Munich would be a fresh start.
"Everyone is entitled to their choice," said Mourinho upon the news that Guardiola had chosen to head to the Bundesliga in Germany. "Has he deliberately chosen a league I am not involved in? I don't know." If that was a factor in Guardiola's thinking then Bayern's fixture list suggests he chose badly. His first month of action in the new job concludes with a UEFA Super Cup showdown against Chelsea in Prague. And that means another encounter with Mourinho.
Of course, this is a relationship that goes some way further back than the eye-gouging of Tito Vilanova and those passive aggressive press conferences. Guardiola was the Barcelona captain when Mourinho served as assistant - or was it translator - to Sir Bobby Robson in the team's dugout. Something the Spaniard is happy to remind his Iberian counterpart. "He knows everything and I don't even want to try to compete with him," was Guardiola's attempt at sarcasm back in April 2011 as tensions rose during their first season as La Liga opponents. "I only want to remind him that we worked together for four years. He knows me, and I know him."
Contrast
The contrast since their days as colleagues is compelling. Guardiola, the devoted champion of Catalonia; Mourinho, the footballing nomad. Guardiola, an evangelist converting his followers so that they may embrace the footballing philosophy of his mentor Johan Cruyff; Mourinho, a coach whose success is forged on the cult of his own personality, embracing many cultures rather than obsessing over one. It is perhaps an appropriate contrast that the former achieved greatness by bringing pride to the Catalan nation, while the latter did so with Internazionale - a club founded on foreign players and culture.
Predictably, their views on legacy are shaped by their own achievements. Mourinho regards his ability to swagger into a football club and convince disparate figures to unite in a common goal as a defining asset. "There are many ways to become a great manager," he says. "But mostly I believe that the most difficult thing is to lead men with different cultures, brains and qualities. And I think to manage this is the most important thing."
Back at Chelsea, that battle has already been partly won thanks to the continued presence of Petr Cech, John Terry and Frank Lampard at the club. As Mourinho would have it, he is at the club he belongs and in the league he belongs. The start has certainly been solid enough, shutting out Manchester United at Old Trafford on Monday evening. Chelsea go into the UEFA Super Cup top of the Premier League.
And yet, a match against Bayern Munich is a reminder to Mourinho and his formidable ego that he was not the first choice of Chelsea owner Roman Abramovich. That man is widely reported to have been Guardiola. But he refused. "Money has found its limits," wrote Paul Hayward in the Telegraph at the time. "Some people cannot be bought. Other things come into play: stability, order, principles. Guardiola was not selling himself to the highest bidder."
Puritanical
Guardiola is anything but a pragmatist. He is the creator of the most lauded team in a generation. "There's an almost puritanical conviction about how you've got to do things. That mindset has its flaws but Barcelona stick to it," Spanish football expert Sid Lowe told CNN. "He was absolutely the right man at the right time with the right squad, the right players around him. It has been a culmination of circumstance."
Now Guardiola is trying to instil those same values in Bavaria. Things got off to an ignominious start with a 4-2 defeat to Borussia Dortmund in the German Super Cup, accompanied by whisperings that the signing of Thiago Alcantara hinted at a lack of compromise - an imposition on an already crowded world-class midfield. Three Bundesliga wins on the bounce eased concerns but Tuesday's draw at Freiburg was a setback. How do you improve on the perfection of the treble anyway?
The challenge, as Brian Clough infamously pointed out upon taking charge of Don Revie's Leeds, is to win it better. And that means doing things the Guardiola way. "I've never had a manager who changed so many things," said veteran striker Claudio Pizarro of life under the new coach. Tellingly, the Peruvian is one of the few men to work with both Guardiola and Mourinho. A first trophy would go some way to convincing those sceptics in Munich that Pep's path is the right one.
But once again Mourinho stands in his way. And the digs keep coming. "It was Jupp Heynckes' Bayern that was the best team in Europe," said Mourinho, quoted in Bild am Sonntag this month. "Now they have a new coach and new players - and I'm not sure if they are still as good." It is not El Clasico anymore, but Guardiola versus Mourinho remains a classic rivalry. On Friday evening in Prague, the next chapter will be written.