Henk Ten Cate says Barcelona can improve after beating Real Sociedad
Henk Ten Cate and Guillem Balague say Barca can improve despite thrashing Real Sociedad 4-1.
Last Updated: 25/09/13 4:03pm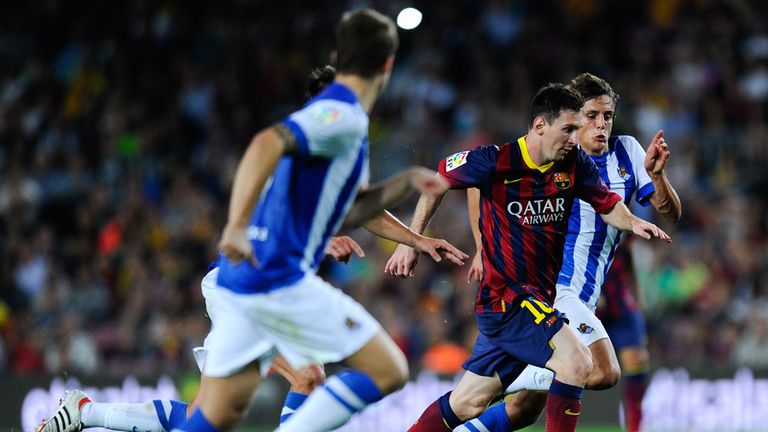 Speaking following the game, Ten Cate described the performance as "very decent." He went on to explain his rationale - which may seem particularly harsh after such a scoreline - by saying: "For me it was not good because if you miss so many chances you cannot speak about good. If you just look at the result, 4-1, you think fantastic result, but it should have been like 10-2."
Lionel Messi scored again, but Ten Cate was quick to point out that he could have had a hat trick, noting: "There were two or three situations where he could have had a goal, a little quicker and it would have ended up in the back of the goal."
Ten Cate blamed Barcelona's failure to convert their chances on "a lack of concentration, especially Messi - a couple of times that his first touch was not good."
Fellow panellist Guillem Balague suggested that Barcelona's offensive strategy is mutating since the "Last four or five goals have come in the same way, which is coming from the other side of where the move is coming. Pedro did it three times on the weekend, twice here [against Sociedad], it seems to be more of a collective work."
Both Balague and Ten Cate saw a return, at least for the first half, of Barcelona's high pressure strategy. Ten Cate noted that Barcelona were: "Pressing high up and recovering the ball very quickly, and keeping the pressure on Real Sociedad."
This type of pressure was a hallmark of previous Barcelona teams but, as Balague noted: "The problem is that's so tiring, so physically demanding, that I think the players didn't do it. This year it's about selecting the moment. They have to learn."
Ten Cate took issue with this statement, arguing "it's mentally tiring but not physically because if you do it correctly then the pressure you do is 10 yards to the left, 10 yards to the right, five yards back or five yards forward. Those kinds of runs, they don't tire you, they don't wear you out. You have to run much more if you have to go all the way back."
Either way, both agreed that Barcelona have room for improvement despite the impressive result.