Sky Sports Scout - Koke
Sky Sports Scout is where we scour the globe looking for the best talent. Next up is Koke.
By Sky Sports Scout - Tweet me: @skysportscout
Last Updated: 21/05/14 12:08pm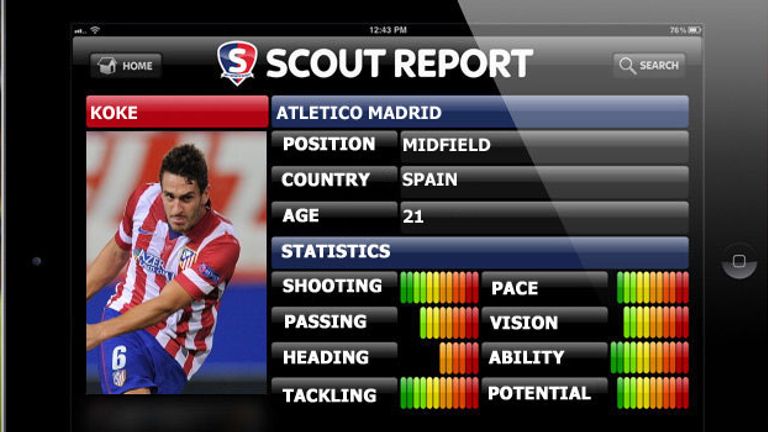 Our scout will report back and you can comment on what you think of their appraisal.
You can only nominate a player by emailing here, including the word 'Scout' in your subject line, and please check to make sure we have not already covered the player.
You can also now interact with the scout via his Twitter feed! You can get in touch with him and interact here or just search for @skysportsscout.
The latest player to be spotlighted is Atletico Madrid's Koke.
The scout reports...
Jorge Resurreccion, better known as Koke, has emerged as one of Spain's most exciting young talents over the last 12 months.
We check on the player who has quickly grown to become an integral part of Atletico Madrid's midfield under Diego Simeone.
Madrid-born Koke was raised an Atletico fan, and was snapped up by their impressive academy when he was aged just eight.
Koke's progress to the first-team was fairly rapid with his debut coming in late 2009, although he had to wait a couple of years before becoming a regular under Simeone's regime. There will be few, though, who disagree that the couple of season's spent with Atletico B did him little harm.
Koke is a naturally-gifted attacking midfielder, although such is his versatility he could even play a holding role if needed - but it is in the latter third of the pitch where he comes to life.
Right-footed, though he is more than happy on the left of midfield too, he can play anywhere across the pitch. Koke's main weapon is his passing, both short and long, and that is one reason he finds himself out wide more often than not, because his crossing is top notch.
Koke is one of the player's who has truly blossomed under Simeone's guidance, and he played a key part in their Copa del Rey victory last season, along with their Champions League qualification.
Whilst Koke does not particularly catch the headlines outside of Spain compared to the likes of Isco or Iker Munian, he is every bit as highly regarded in his homeland.
Capped for Spain at Under-16 level, he has represented his country at every level up to the senior squad - he made his debut for the national side in August.
He was also one of the stars of Spain's hugely impressive Under-21 side which took the European title.
In short, Koke is a wonderful young player, one who has perhaps not come to the attention of many in England, but the links to the Premier League clubs have started.
The scout says...
Another sublime talent off the Spanish conveyor belt of talent. Koke is a top-class player.
He has progressed superbly at Atletico and their resolve could be tested by some of Europe's biggest clubs in the near future.
The Scout rating...
Shooting: 7 out of 10
Passing: 8 out of 10
Tackling: 7 out of 10
Heading: 6 out of 10
Pace: 8 out of 10
Vision: 7 out of 10
Current ability: 8 out of 10
Potential ability: 10 out of 10
OVERALL SCOUT RATING:61/80
Current value: £20million
Potential value: £50million
Your opinion...
You have read our opinion of Koke - now we want your views. Have you seen Koke in action? Do you agree with our assessment? Do you think he will make it?
Get in touch, either using the form below, email or the scout's Twitter feed - @skysportsscout.
Would Koke make your team? Pick your Sky Sports Fantasy Football team for the chance to win over £100k in prizes. Play for free here.