Questions for Moyes
Robin van Persie's missed penalty meant Manchester United had to settle for a 0-0 draw with Real Sociedad in San Sebastian. Adam Bate wonders whether anyone came out of the evening with much credit on a night of missed opportunities all round.
By Adam Bate in San Sebastian
Last Updated: 06/11/13 10:18am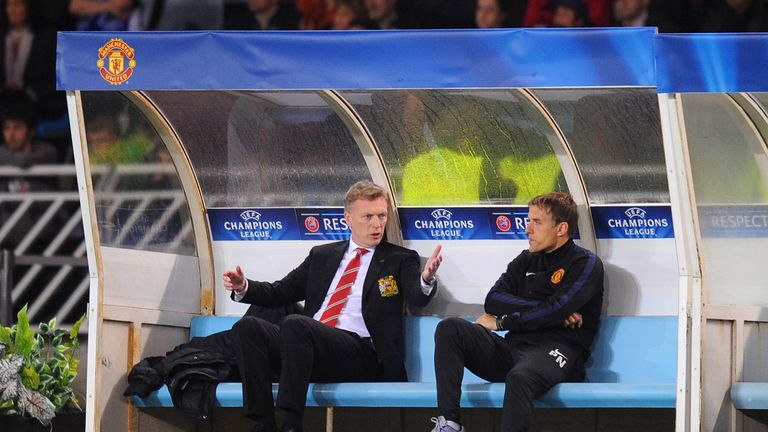 "Es para hoy!" yelled the Real Sociedad supporters as they made the pilgrimage from Parte Vieja - the Old Town of San Sebastian - to the Estadio Anoeta. It's today. The excitement was palpable. This was the game that fans of La Real had been waiting for ever since the Champions League draw in Monaco back in August. Ultimately, much like the foreboding weather had suggested, it turned out to be something of a damp squib. And not just for Sociedad. Their illustrious visitors failed to deliver in Tuesday's goalless draw too.
Everywhere you looked, there were opportunities to be seized. Javier Hernandez had been the focus of attention this week after retweeting a Sky Sports article containing quotes from compatriot Carlos Vela indicating an Old Trafford exit could be imminent. "I don't totally understand why a player of his quality has not played more games," said the Real Sociedad forward. "If he doesn't play regularly he will need to think about leaving." Hernandez played here. And spurned his big chance.
The moment arrived for the Mexican early in the second half. Shinji Kagawa's cross-shot falling to him six yards out only for the usually reliable predator to somehow scoop his effort over the bar. "I think the ball bobbled up, to be fair to Chicho, It just gets off the ground before it gets to him," said David Moyes afterwards. It was a charitable assessment. Others might point to the fact that Hernandez has netted three of his four goals this year in the Capital One Cup, while going two-and-a-half hours without finding the net in the Champions League. It would be a surprise if he is afforded a third consecutive European start at Bayer Leverkusen.
As for Kagawa, he might feel more optimistic about his chances after a bright performance, but there remain more questions than answers surrounding his role at United. A mischievous reporter in the post-match press conference explicitly referenced Jurgen Klopp's bemusement at the decision to play the former Borussia Dortmund star on the left of midfield. Asked where he felt Kagawa's best position lies, Moyes simply replied: "I think he's good in them all." Like that response itself, there is a sense with Kagawa that there should be more to come.
In truth, the midfielder's role on the left was nominal rather than restrictive. Kagawa evidently had freedom to cut inside and the link-up play with the advancing Patrice Evra was encouraging. And yet, the Japan international was hampered by both disappointing decision-making and poor execution even when occupying those favoured pockets of space far from the flank. Curiously, he had more joy in similar positions once he had been moved to the centre - seemingly emboldened by the fact that he was now playing as the team's No.10. If Kagawa is to become inhibited by the mere notion of his status as a left winger, Klopp's concerns could become a self-fulfilling prophecy.
It required no great gift for prophecy to see Marouane Fellaini's sending off coming. The burly Belgian had already committed a number of fouls following his first half yellow but failed to heed the warning. In the absence of Michael Carrick, this was a chance for the summer signing to show his ability to command the midfield in a difficult European tie. Instead, while he possesses undoubted presence, there remains an immaturity to Fellaini's game and few in the stadium could have shared his manager's apparent faith that he could get through the contest without seeing red.
If Moyes was anything but cautious in his handling of Fellaini, his attitude to the game itself added to the feeling that an opportunity to punish Sociedad had been missed. Certainly, it is hard to argue with the assessment of his opposite number Jagoba Arrasate, who said: "The first half was a tactical game. They kept the ball but we didn't suffer much. In the second half it was a more open game and they seemed to be very comfortable with that situation." Perhaps if Wayne Rooney had remained on the pitch and worked in tandem with Robin van Persie, that comfort would have translated into goals.
Of course, United are still strongly placed to reach the knockout stages of the tournament. However, even a draw in their next fixture away to Leverkusen would leave the Red Devils vulnerable. Given that Bayern Munich are the only side to escape the BayArena with so much as a point this season, it is likely to go down to the final game against Shakhtar Donetsk for a place in the last 16. That might not prove as inviting as the chance offered up at Anoeta on Tuesday. "We were worthy of three points tonight," said Moyes. Indeed, David. They were there for the taking.
In fact, Real Sociedad never really shook the feeling that this was an occasion - on the pitch and in the stands - to stand back and savour rather than get stuck into. In Manchester two weeks ago, they played the role of wide-eyed tourists, happy to take photos on the Old Trafford turf. Here the reverence with which the crowd hushed their chanting to soak up the blaring out of the Champions League anthem before kick-off was echoed on the field as they settled for containment over combativity.
"This is our first point in the Champions League against a great rival," Arrasate told reporters after the game. He seemed content enough. It was the theme of the night. But as with Hernandez, Kagawa, Fellaini and Moyes, one wonders whether everyone associated with Real Sociedad will have woken up the morning after the night before wondering what might have been. The moment came. And the moment passed them all by.