Revista: Barcelona's boardroom drama is not affecting their form, says Marcelino
Barca players are ignoring off-field matters and thriving with on-field responsibility, says Marcelino.
Last Updated: 03/02/14 10:46am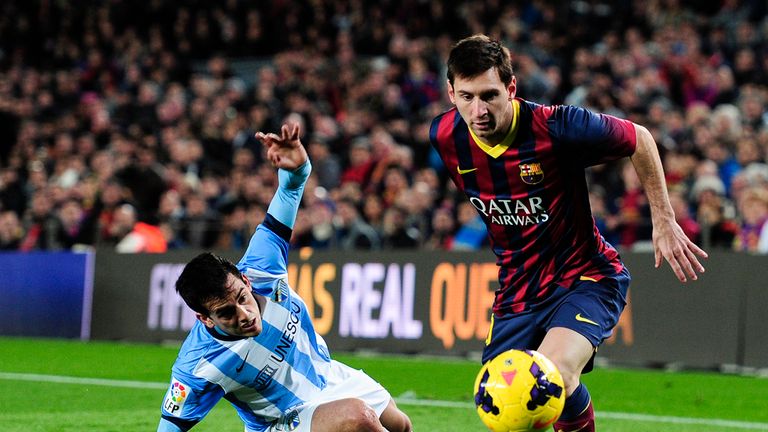 There was boardroom upheaval at the Nou Camp last week when club president Sandro Rosell resigned amid an investigation into Neymar's contract.
However, former Mallorca and Newcastle defender Marcelino says that while Barcelona's executive leadership may be up in the air, the team's performances on the pitch remain impressive.
"I don't think any Barcelona player is too bothered by all the off-field chaos," he said.
"Neymar put a tweet up on the same day that Rosell resigned saying it was a lovely day because the sun was out - that is how much it is affecting them!
"They just want to play football and are focusing on the next game. The chaos is hardly affecting their form is it?
"Barcelona are looking very much the in-form team at the moment, Lionel Messi's return has had an influence, of course, and I think the whole team are looking fluid and are scoring goals in different ways.
"They are putting numbers around the ball and it shows that they are really up for it and want to score goals and create as many chances as they can."
Rotation
Guillem Balague agreed that Barcelona are now hitting their stride and says that compromises between manager Tata Martino and his players has helped the team to get better.
"We said at the start of the season that Tata came in with an idea of what he wanted to do. He started to change some things, rotate some players and play a lot more direct than they are playing now," explained the Sky Sports pundit.
"It got to a point where players said 'hold on, can we do things a little different with more possession?'
"From that compromise comes the Barcelona we see now."
Former Spanish Super Cup winner Marcelino reckons it takes a special manager to be able to listen to his players - but suggested when you have multiple medal-winners such as Messi, Andres Iniesta and Neymar in your team, it would be silly not to heed their advice.
"Tata has inherited a way of doing things; we have spoken in the past of the self-management of the dressing room at Barcelona," he said.
"I think he did try and make some changes at the beginning of the season but little by little we are seeing what we were seeing in the prior seasons - it works so why change it?"
Decisions
An example of Barca's key players making their own on-field decisions can be seen by watching Messi, says Balague.
The Argentina ace, since returning from his hamstring problem, is dropping off more often than previously - and Balague suspects that is the player's idea, rather than the manager's.
"Messi can do whatever he wants and that has been said by Tata," he said.
"What he wants to do at the moment is drop deeper, to get more of the ball, to assist - and he has four assists in the last two games.
"He is dropping off because he wants to reserve his energy because it is a long season and he also wants to see how well he has recovered from the injury.
"We will now see him more as a No.10, rather than a false nine."