Guillem Balague: Don't let Luis Aragones' mistake tarnish what he did for Spanish football
Guillem Balague describes the impact of Luis Aragones on the success of the Spanish football team.
Last Updated: 06/02/14 10:12am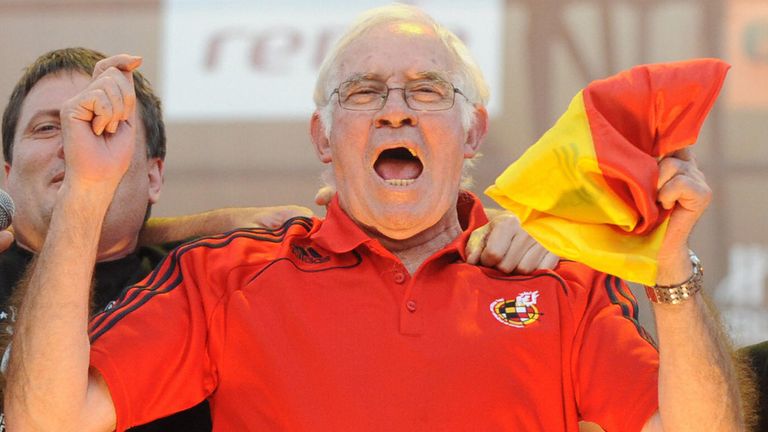 When he first started as national team coach in 2004 Spain were playing in 'The Fury' style - direct football with a lot of aggression where passing was out of fashion, with big central midfielders and very fast wingers in a 4-2-3-1 system.
Very quickly Aragones realised that he had to get rid of the likes of striking legend Raul from the team to let others like David Villa grow - and Villa grew without the eternal number 7.
Aragones also put the team in the hands of Xavi Hernandez and the other short midfielders and that changed the whole of Spanish football.
It was the season after their Euro 2008 win that Pep Guardiola took over Barcelona's first team and it's obvious that Barca won a lot with Pep's style, based on possession and quality of players, but it was Aragones who had first installed this kind of thinking into them through the national team.
He wanted them to run the team, to score goals, to be the essence of the team - and you can see how important he has been for everybody by the way they reacted to his death.
When Cristián scored for Elche against Almería at the weekend the players gathered and put their fingers up to the skies. There were minutes of silence everywhere, including San Mames, where it is rare they follow that tradition.
Then, at the club that meant so much to him, Atletico Madrid, in the Vincente Calderon, where he spent 10 years as a player and 15 as a manager, manager Diego Simeone celebrated goals by punching the air, looking up and battling his tears.
His team had his no.8 shirt hanging in the changing room during the game. The fans were in silence for the first eight minutes of the game and the player he gave all those opportunities to, David Villa, looked close to tears after scoring, looking up to the sky.
Special
Aragones won La Liga three times with Atletico as a player and once as a manager and his spirit was certainly around the Calderon on Sunday as he helped Atletico Madrid go to the top of the table for the first time in 18 years. He would have enjoyed seeing that.
Xavi Hernandez had to bite his sleeve not to cry at the Nou Camp on Saturday. He had written a very emotional letter in El Pais saying that he had never learnt as much about football as he did under Aragones. He was a very special man.
I know that in England there is this idea that he was racist and I understand that sometimes, in this world of Twitter, many are dangerously very superficial, but it does scare me and worries me when people point out so rapidly where the racist is.
He made a huge mistake in trying to motivate Reyes saying something very bad about Thierry Henry and the colour of his skin (he did it in private and was filmed by a camera and broadcasted, but that is no excuse whatsoever as what he said was wrong).
He apologised for it, not at first, but he did eventually apologise. I spoke to him since then and, while it is no excuse, I think it was more of an older-generation type of thinking and a lack of the racial education that exists in Britain.
There's no doubt about that. I am not excusing it, he was wrong and I pointed that out to him. But he is not racist. He did make a racist comment, he is ignorant, like so many in Spain. I still think there is a difference.
But talk to Samuel Eto'o or anyone else he's worked with and that is the only instant where he has shown that kind of behaviour.
I don't think one minute defines 75 years of a life.
Guillem answers your questions...
Got a question for Guillem? Then send it in using the feedback form below, and then look out for his answer next week...
PRESSURE ELECTIONS
Hi Guillem, Firstly keep up the great work with the blog as it is always a great read. I have a couple of questions regarding what is going on at Barca, firstly do you think Joan Laporta will increase the pressure on the current board to call elections this summer and if they do will there be any other interested parties looking to run for president? Secondly there is a lot of talk that Gerardo Martino will leave the club in the summer? Rod
GUILLEM SAYS: I met Josep Maria Bartomeu the President of Barcelona and we have an interview with him and with Lionel Messi on Tuesday's Revista - which I will miss for the first time as I'm ill! But Bartomeu has insisted that elections will take place in 2016 and Martino will be renewed until 2016. We will see though because there is going to be pressure for the elections to come earlier.
The thing is, there are some candidates that are prepared for 2016 but others who are not, so nobody really knows what's best for the board, or for the candidates to have early elections. We'll keep an eye on this one. In the meantime, I've been expressing all season that Tata Martino isn't the right the man for Barcelona but the board and Bartomeu seem to be thinking differently.
KERRISON QUERY
Hi Guillem Balague, several years back Barca signed this striker from Brazil called Kerrison who's essentially never kicked a ball for us. Do you have any idea at all whether he'll ever play for Barca? He's such a good player and he really deserves a chance Franco
GUILLEM SAYS: Kerrison will never play for Barcelona and it is a strange signing because he never had the quality for Barcelona.
GRIEZMANN GOING?
Hi Guillem, great work as usual. I previously asked if there are any strikers to solve the Chelsea predicament, to which you said all good ones are not available (i.e. at top 3) and suggested Jackson Martinez of Porto. However, there have been some murmurs in English media about Jose's interest in Griezmann. Is there any fibre of truth in this? Thanks Nyakzin
GUILLEM SAYS: I think Griezmann has been approached by PSG and it's an attractive offer for him, so whoever wants to take him away from that idea will have to put a lot of money in to it and pose a very interesting project. He's a fantastic player and belongs at the top but at the moment the biggest interest is from PSG, though nothing is agreed.
OVERLOOKED?
Hey, Guillem as you know one of the reasons Juan Mata left was to help boost his chances of getting picked for Brazil. However, Spanish players in the Premier League have been overlooked on a lot of occasions. As a Manchester United fan I'd like to ask do you think De Gea or Juan Mata have a good chance of making Spain's World Cup squad? Keep up the good work and thanks.Alex Chapman
GUILLEM SAYS: I don't feel that Spanish players in the Premier League have been overlooked. It has added to their football and their bodies - they've become bigger and the intensity helps their football, too. It's difficult sometimes to push away from the team they have already with Xavi, Iniesta, and Busquets and its midfielders at the moment that English clubs have been buying. Strikers, on the other hand, are a different story and I think Negredo has been helped a lot by moving to England.