Sky Sports News' David Garrido gives his views on Europe's top leagues
David Garrido looks at Europe's top leagues as they near the 'business end' of the season.
Last Updated: 04/03/14 5:23pm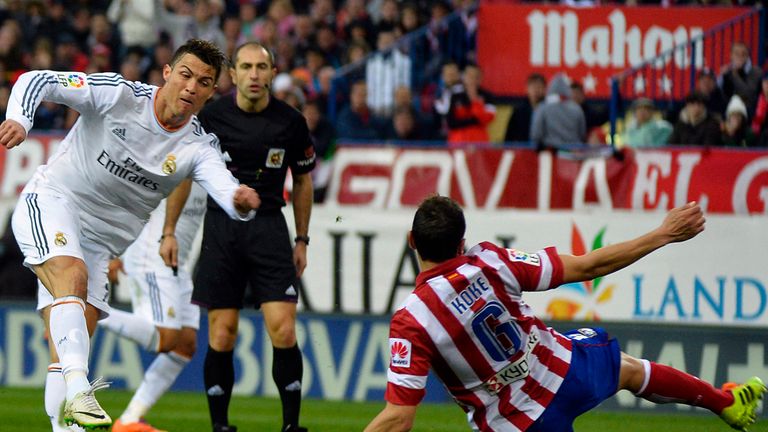 SPAIN
The story of Real's season up until February was simply trying to hang on to the coat-tails of Barcelona and Atletico Madrid, mainly thanks to the efforts of Ballon d'Or winner Cristiano Ronaldo. But when Ronaldo got sent off during the 1-1 draw at Athletic Bilbao, they had to cope without him for three games.
Thankfully for Ancelotti, he had reinforcements who stepped up - young winger Jese is one, along with Gareth Bale who has taken his Madrid tally into double figures in Spain's top division. But the real consistency has come from Karim Benzema - seven goals in nine league appearances, 21 in all.
Ronaldo's suspension clearly fired him up - after the 3-0 derby win over Atletico in the Copa del Rey, he got two in the return leg, two more in the 6-1 Champions League demolition of Schalke and then what could prove to be a crucial equaliser against their Madrid rivals, as they drew 2-2 in a feisty game at the Estadio Vicente Calderon.
Barcelona, meanwhile, seem to be lacking the hunger of recent seasons - defeats at home to inconsistent Valencia and away to Real Sociedad are bad enough, but conceding three in both games is even more alarming.
With Carles Puyol having announced his retirement, perhaps the Catalans should have been more insistent in their courting of David Luiz last summer, but instead they're having to rely on youngsters Marc Bartra and Martin Montoya.
Barca know they have desperately needed a big centre-back alongside Gerard Pique for some time - they've been content to play Javier Mascherano there, but in an ageing squad, a full-time replacement is imperative rather than a stop-gap. On the positive side, Lionel Messi now seems fully recovered from his injury with eight goals in six games.
As for Atletico, it's a case of how long they can hang on. They showed plenty of character to turn things around in their latest derby, a style which Ancelotti described as 'violent', but they couldn't quite force the victory that would have taken them back level with Real.
Two wins in seven in all competitions suggest Diego Simeone's men are running out of puff, and Champions League exertions could now take their toll too. Games are coming up against Celta Vigo, Espanyol, Granada and Real Betis, games they have to win because much tougher propositions follow in late March and early April, especially if juggled with European quarter-finals or semi-finals.
GERMANY
Over in the Bundesliga, however, there are no such concerns for the juggernaut that is Bayern Munich. A class apart again in their domestic division, they now lead by 20 points and as such could clinch the title by the end of this month. It has been all too easy for Pep Guardiola, who now has a real chance of emulating his predecessor Jupp Heynckes and winning the domestic and European treble.
Since the 2-3 defeat by Manchester City in their final group game in the Champions League in December, they have won their last 12 on the trot in all competitions, scoring 39 goals in the process, and conceding just three.
A successful league title defence could be confirmed even earlier if Bayern's closest challengers continue to stumble. Bayer Leverkusen have gone off the boil in a big way with five straight defeats domestically and on the continent.
That run has seen them drop off the pace in the Bundesliga, go out of the German Cup to second-tier side Kaiserslautern and almost certainly exit the Champions League (they go into the second leg against Paris Saint-Germain at the Parc des Princes 4-0 down).
The implosion has allowed Borussia Dortmund to jump above them - Jurgen Klopp seems to have got his side out of their November and December slump. It's now four wins in five, with Pierre-Emerick Aubemeyang amongst the goals along with Robert Lewandowski and Henrikh Mkhitaryan, but the damage has been done and second is the best they can hope for in the Bundesliga.
ITALY
Serie A appears a similarly foregone conclusion, with Juventus 11 points clear, despite dropping points at Lazio and Hellas Verona since the turn of the year. Juve haven't exactly been prolific, but they certainly are solid, as a run of four clean sheets would suggest, culminating in a 2-0 win away to AC Milan.
But Antonio Conte has a tricky little period coming up where they play fourth-placed Fiorentina three times in the space of four games, starting off with Sunday's lunchtime game and then home and away clashes in the Europa League.
The Champions League remains the holy grail for the Old Lady, but with those hopes extinguished for another season, another Scudetto is a near certainty and the continent's second competition is a clear possibility.
Napoli too have a tough-looking last-16 tie as they face Porto, but again draws against inferior opposition are hurting them in Serie A. Genoa at home and Livorno away would normally yield six points, four minimum, but instead Rafa Benitez has had to settle for two.
Their next game is against Roma, the sole meaningful chasers in the title race who have no cup competitions as distractions. But Rudy Garcia's team have had their momentum checked since their last league defeat in early January by dropping points in their tougher games: 1-1 in the Rome derby at Lazio, and then the same scoreline at home to Inter Milan last time out. Garcia may be running out of tricks at a crucial point in the season.
FRANCE
PSG are on course to win a second consecutive Ligue 1 title ahead of time - their advantage is eight points over Monaco, with whom they drew in the principality almost a month ago. Since then, Laurent Blanc has enjoyed four straight victories, scoring 13, two of which came in 'Le Classique' against Marseille.
Zlatan Ibrahimovic now has 37 goals to his name this season, and he continued to thrill with yet another hat-trick at Toulouse, his fourth this campaign (or five if you count Sweden's 4-2 win over Norway in August). They are looking indestructible, and even the real European heavyweights will be wanting to avoid them in the Champions League quarter-finals.
Monaco now have a new mercurial man in Dimitar Berbatov, who scored in the extra-time victory over Nice in the Coupe de France, but in truth they lack a cutting edge up front without Radamel Falcao.
The Colombian is still optimistic of making the World Cup this summer after a knee operation, but the Monegasques probably won't see him in any meaningful form before the title race is over.
The 2-0 defeat at Saint-Etienne last weekend won't have helped Claudio Ranieri's cause either, but then the Stade Geoffroy Guichard is one of the tougher, truly atmospheric and intimidating venues to go to, and Christophe Galtier's side are unbeaten in seven there, winning six.
Saint Etienne's resurgence has put pressure on Lille in the final Champions League spot, with Marseille and Lyon making up the top six, and while Montpellier have battled their way out of trouble with a nine-match unbeaten run in the league, Nice and Nantes suffered a February funk.
Both sides are still nine points above the relegation zone, but it would be a shock to see the seven-time champions from the Loire drop down the season after they came up.
So whilst Germany, Italy and France are getting ready to crown champions-elect, there's still plenty to play for in La Liga - they and the Premier League are relishing the most competitive title battles in years, and the next few games could provide some pivotal moments.