El Clasico: Real Madrid 'ridiculous' to blame referee for Barcelona defeat
Angel Di Maria and Lionel Messi shone bright in Spanish-football showpiece
Last Updated: 25/03/14 11:43am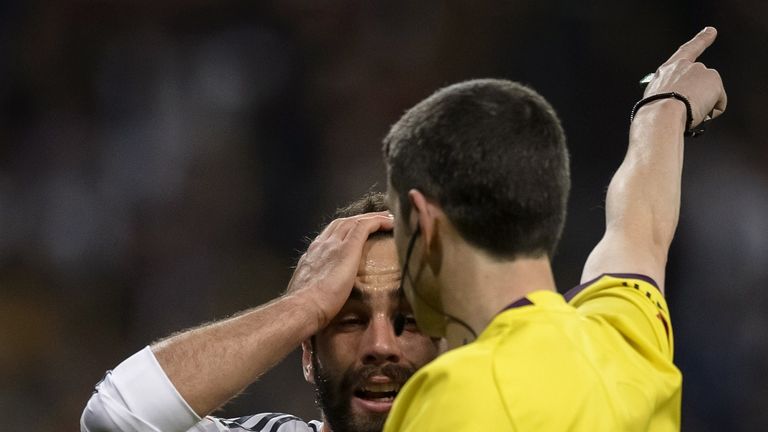 It had everything - controversy, penalties, superstars - but it was a weird game because when one team scored it was when the other team was dominating, especially in the first half.
In any case, Andres Iniesta and Lionel Messi's moments beat a Real Madrid that kept going deeper and deeper.
Real started really well, putting pressure high and making life very difficult for the Barcelona defenders, but with every appearance of Messi, Madrid moved five or so metres back and ended up defending far too deep.
That meant that when players like Cristiano Ronaldo or Gareth Bale recovered the ball they had a lot of metres to run.
That is one way to explain the game but in the eyes of the Real players, the referee is another way to explain what happened - but I found that so unfair and a real 'loser' attitude.
Both Sergio Ramos and Ronaldo came out in the press conference, with Ramos saying he hopes this referee doesn't officiate one of their games again and Ronaldo saying it looks like people don't want Real to win.
That is absolutely ridiculous and even the Real Madrid press have criticised that kind of talk.
There were doubts over the Neymar penalty - where there was not so much contact with the foot but a hand onto the shoulder from Sergio Ramos - but Real got a penalty when Ronaldo was fouled outside the box, so for them to complain is out of this world.
Effective
This was a Clasico for Angel Di Maria, who was fantastic and smelled blood on the wing after realising Neymar, Xavi and Dani Alves weren't defending well and that Javier Mascherano wasn't helping either.
Karim Benzema could have had four or five goals in the first half so it was his Clasico, too, but if he had been more effective we would be talking about a different game.
Then, of course, there is Messi.
He has scored 15 goals in his last nine games and is looking like the Messi of old, but he was not just a scorer in the Clasico - he assisted the penalty for Neymar and Iniesta's first goal.
So people who were insisting that this is it for Messi are going to have to change their tune - but there will be criticism of Tata Martino for not using Pedro from the beginning.
I think playing Pedro would have been a better decision defensively and perhaps they wouldn't have needed to score four goals if he had started as he works very hard.
Martino said Neymar is one of the top five players in the world and that he needed to play him, but I think Pedro is absolutely necessary for the team.
Carlo Ancelotti also suffered a bit and should have made changes earlier - Di Maria looked very tired - while replacing Benzema was probably not the best decision.
All in all it was a fantastic game with lots of talking points and we hope to deal with them in more detail on Revista.
Guillem answers your questions...
Got a question for Guillem? Then send it in using the feedback form below, and then look out for his answer next week...
FOUR SIGHTS
Hi Guillem, After Athletic Bilbao got back to winning ways on Saturday, do you expect them to now hold on to fourth spot and secure Champions League football for next season? Thanks, Michael
GUILLEM SAYS: It has been an interesting process at Athletic Bilbao and Ernesto Valverde had two things to do. One was to cheer up the team and the club after a difficult year with Marcelo Bielsa and he did that very early. He also experimented at the back and finally he has got a settled XI with Ander Herrera, who suffered after the Manchester United deal fell through, back to his best. Bilbao should finish fourth.
COSTA ON THE MOVE?
Hola Guillem! Love the column! Diego Costa seems back to his goalscoring best again after his mini-drought earlier this year - has he made any adjustments to get back among the goals? And what do you make of the rumours linking him to Chelsea? Thanks, Sam
GUILLEM SAYS: Atletico Madrid have to sell and Costa's buyout clause is 36million euros. Chelsea are favourites but they are not the only team that want him.
CHAMPIONS LEAGUE THOUGHTS
Hello Guillem. What did you make of the Champions League draw last week? Do you think Atletico can surprise Barca? And are Real happy with Borussia Dortmund? Can they avenge last season's semi-final defeat? James
GUILLEM SAYS: I think Atletico can surprise Barcelona, but I see Chelsea, Real Madrid and Bayern Munich going through.