Barcelona: Current era has enjoyed plenty of success but there has been sadness, too
Raul Garcia has been crucial man in Atletico Madrid's title tilt
Last Updated: 29/04/14 8:48am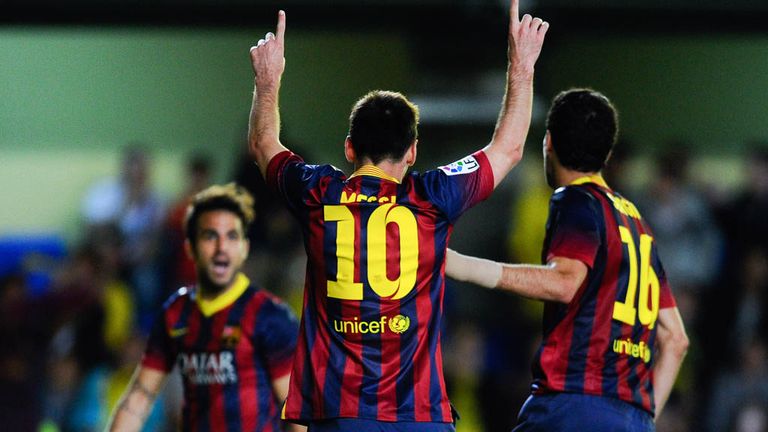 Everybody admitted it was very hard and you saw Sergio Busquets crying before the game and Andres Iniesta getting emotional, while Xavi said afterwards that nobody really felt like playing.
The game was played, though, and Barcelona showed the weaknesses they have shown all season.
It was the fifth consecutive match in which they conceded first and the seventh successive game in which they have conceded goals - but they also showed that this is a group of very proud people.
It has been an amazing era for Barcelona, not just because of their success but because of the amount of things that have happened off the pitch, including Tito, Eric Abidal's illness, and Iniesta's recent loss of a baby.
There was also the Neymar situation, the departure of president Sandro Rossell and the tax situation with Lionel Messi, so Barcelona have had a lot of things to deal with and still been competitive.
You have to praise them for that.
Usual
Real Madrid's game with Osasuna was relatively easy.
Cristiano Ronaldo complained afterwards that some people - I think he mentioned doctors - didn't want him to play but he felt okay and scored two goals.
We also saw the usual Atletico Madrid - not much football but they won.
They have managed to get a record 88 points after winning, in the eyes of Diego Simeone, the most difficult game they have left - he excluded Barcelona because he thinks they should go to the Camp Nou with the title already secure.
The man to praise is Raul Garcia, who is a perfect Simeone player, has scored 17 goals this year and is almost Man of the Season, with Thibaut Courtois, Gabi, and perhaps Diego Costa.
He didn't start the season playing and was out of the squad against Barcelona in the Supercopa, but he has worked so hard to get into the team and Simeone sees him as a perfect example.
Guillem answers your questions...
Got a question for Guillem? Then send it in using the feedback form below, and then look out for his answer next week...
LEO TO LEAVE?
Hi Guillem, Based on how well you know Lionel Messi, as you wrote a book on him, what do you think are the chances that Messi will leave in the summer? And if Messi becomes available in the summer probably Utd, City, PSG and Bayern will make a bid for him. Do you reckon he'll either go for the money of City and PSG, reunite with Pep at Bayern or create some history with the greatest club in the world Manchester United?Fulltimedevil
GUILLEM SAYS: A lot of teams in Europe have asked about Messi. They have found out about the contractual situation and how far negotiations have gone. I am not saying clubs are going to make an offer but teams like PSG, Manchester United and many more have enquired about him. They are closely monitoring the situation. I think there will be a contract renewal at Barcelona and he will stay but until that is confirmed clubs are doing their job and trying to find things out.
MARTINO'S FUTURE
Hi, Do you think Tata Martino will be Barca manager next season? If not who is your preferred manager to replace him? EVANSON
GUILLEM SAYS: What is clear is that Tata is not particularly in love with the idea of staying on and Andoni Zubizarreta is looking at other managers, but the latest rumour is that it might be difficult for his favoured ones to come on board, with Ernesto Valverde, for example, likely to stay at Athletic Bilbao. I heard they may try to convince Tata to stay but I wonder if he has already convinced himself to go.
I am also waiting for the reaction of Villarreal and the federation to the banana thrown at Barcelona's Dani Alves. I will ring them today and report in Revista what they said. It was a disgusting provocation and needs punishment if people are serious about stopping racism.