Bayern Munich punished for poor defending by Real Madrid in Champions League
Spanish side 'sensational' in semi-final at Allianz Arena
Last Updated: 30/04/14 9:33am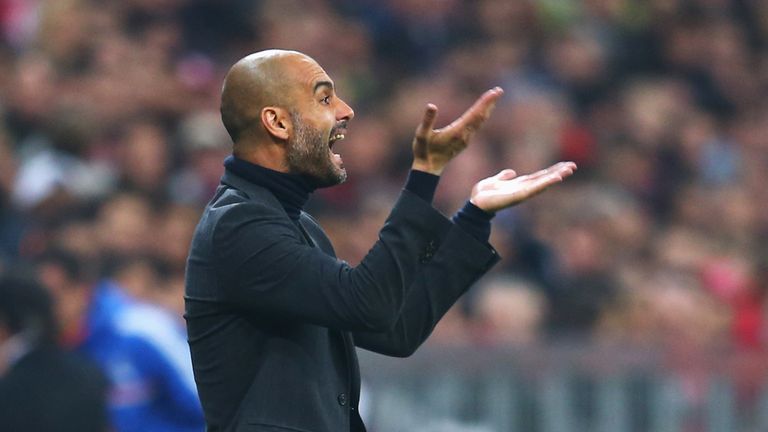 The German giants - who won Europe's elite club competition in style last season under former boss Jupp Heynckes - crashed to a 4-0 home defeat to Real Madrid in Tuesday's semi-final second leg to exit 5-0 on aggregate.
Despite Bayern dominating possession, McInally told Sky Sports News the title holders lacked the ability to open up a defiant Madrid defence after allowing their visitors to take a crucial two-goal lead in the opening 20 minutes via free headers for Sergio Ramos.
"Bayern will look back and be ruing the fact they didn't defend set pieces better," said the former Bayern striker.
"The opening two goals were down to shocking defending. They've got to have spoken about set-pieces, surely. [Bayern boss] Pep Guardiola must have gone through that. But Ramos had two free headers.
"Someone from the Bayern camp needed to say 'Ramos is mine' - but they just weren't picking up properly.
"After that, we know how Guardiola likes to play but I don't think Bayern moved the ball quick enough into the wide areas or areas where they could hurt Real Madrid.
"When they did get the ball forward they were happy to bring it into the middle and start from there, but because Real could close ranks there was not a lot of corridors for Bayern to pick through.
"It then needed something of real brilliance from Arjen Robben or Franck Ribery - and they struggled. Bayern tonight just weren't good enough."
Sensational
However, McInally also had plenty of praise for Carlo Ancelotti's side, who regularly threatened on the counter-attack as they booked their first Champions League final appearance since 2002.
"Real have been as good as I've seen them," he said, after seeing Cristiano Ronaldo add a brace to Ramos' early double. "This scoreline doesn't flatter them.
"Ronaldo was sensational, the back four - who sometimes can be a little bit suspect - were excellent and there just wasn't enough from Bayern.
"We normally see Bayern moving the ball, creating loads of chances, one and two touches and getting around the back but Real Madrid just didn't let them. They didn't let them whatsoever.
"I'm delighted for Gareth Bale as well. In his first season at Real Madrid he's won a Copa del Rey, he's going to be in the final of the Champions League, while Ronaldo has got 16 goals now in this competition.
"It's been a long time since Real were in the final - 12 years ago - and that's absolutely incredible. But they absolutely deserved to go through here."
Banned
Real will play in the final without key midfielder Xabi Alonso, after the former Liverpool player picked up a yellow card, which rules him out of the Lisbon showpiece, which will be live on Sky Sports on May 24.
With Real 3-0 up and in complete control, Alonso slid in on Bastian Schweinsteiger and immediately realised how costly his misjudgement had been.
"The only real disappointment for Real is that Xabi Alonso has picked up a booking and can't play in the final," said McInally. "But it was crazy stuff from him.
"Alonso was one of two Madrid players who wouldn't be able to play in the final if he got a yellow card - the other was Sergio Ramos. There was a crazy challenge from Ramos, who got away with it, but then Alonso tried to do exactly the same to Schweinsteiger and got booked.
"Xabi Alonso won the Champions League with Liverpool and I can't believe he's even thought about going to ground to make a challenge when they're 3-0 up.
"At 3-0 he didn't need to be sliding in anywhere. But he did and the ref gave a free-kick and booked him."