Embracing the noise
Diego Simeone and his Atletico Madrid team looked set to complete their miracle season with a Champions League win. But Sergio Ramos intervened to send Real Madrid on their way to a 4-1 victory after extra-time. Adam Bate was in Lisbon to see Real deliver La Décima...
Last Updated: 25/05/14 4:34pm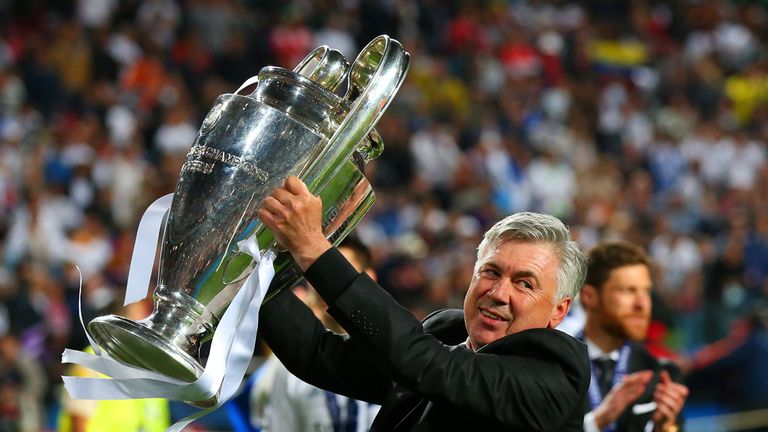 "I always think that in these finals, the winner is the team that manages to remove itself from all the noise."
For 93 minutes, Diego Simeone's side looked to have done just as their manager had instructed. This was Atletico playing their normal game. The game that had proved too canny for everyone in Spain. Too canny for everyone in Europe. Indeed, they were two minutes away from being the first team in half a dozen years to win the Champions League without losing a match.
They'd held on with minimal fuss against Barcelona at Camp Nou last week to clinch La Liga and those tried and trusted qualities were evident again. There was the dogged defending, the tenacious tackling and savvy interceptions. And yes, plenty of waspish work too - cynical fouls to prevent the counter and time-wasting to match. Same old Atletico. That was the message.
Calm
It had been reflected in the pre-match press conferences during which it was the Atletico camp - competing in Europe's biggest club game for the first time in 40 years - exuding calm. They were relaxed but they believed. "We are very confident because we have a strong identity," said Tiago Mendes. "That won't change tomorrow. We will play the same as ever. We will be the same Atletico."
Fellow midfielder Raul Garcia put it even more succinctly. "If we keep doing what we've been doing, we'll win," he said. Despite the celebrations that had greeted their title success, there was never any suggestion the players were thinking of anything other than the job in hand. "They've worked the same as ever, with the focus on the next game," said Simeone. "That has brought us here."
The contrast with rivals Real Madrid was stark. For a club that has come to define itself by its glorious achievements in Europe, this competition is everything. As Carlo Ancelotti is well aware, La Décima - that long awaited tenth European Cup win - has been more than a focus. "There's a very fine line between an obsession and a dream," he told reporters. "You try to reach the dream."
That meant doing things differently rather than sticking to the same formula. While Atletico talked of the match, Real spoke of the meaning. They were playing the occasion not the man. Clarence Seedorf once spoke of winning the Champions League being a duty for Real Madrid players and Iker Casillas - the club's longest serving player - seemed to be a man feeling it more than most.
Demands
"You know you can make the thousands and thousands of people happy who have come here from Madrid," the captain had said on the eve of the game. For the longest time it seemed as though Real - and most conspicuously Casillas himself - would be weighed down by those demands. It was the goalkeeper's error that led to Diego Godin's first-half opener.
That's the sort of moment that tests belief. And Atletico were not letting up. Shorn of key attacking threats, they retained their defensive rigour. The defence that surrendered the fewest goals in La Liga. The defence that conceded fewer goals in the final 15 minutes than any team in the Champions League. Clear-cut opportunities were not likely to be forthcoming.
And then, the moment came. A reminder that it's ordinary players who are weighed down by expectations. Extraordinary ones are inspired by it. Sergio Ramos evaded everyone to power home the header in stoppage time and bring to mind his comments from the previous day. "What we need now is attitude," he'd told the press conference. "We have to leave our souls out there."
From then on it was almost an inevitability. History in the making. And the Bernabeu trophy room that for the past 12 years has played videos to accompany each of their nine previous European Cup trophies will require a new addition - Gareth Bale's goal to be played on a loop in perpetuity.
Party
Roused by Simeone, the Atletico fans continued to chant vociferously and admirably in support of their team. But for the first time all weekend it felt like they were interlopers at someone else's party. A party they've been enduring for nigh on 60 years. Almost as soon as Ramos's header hit the net, you wondered whether it could ever have been any other way.
Fine margins, of course. In truth, it really could have been so different. A narrative shift of huge proportions. For it was the team that stuck to their task and did what they've been doing so successfully all year that fell short. The team that embraced the history, the drama, the pressures, the expectations - and the noise - got there in the end.