Valdes expects improvement
Victor Valdes claims Barca and Man Utd have both improved since they last met in the Champions League final.
Last Updated: 27/05/11 10:18pm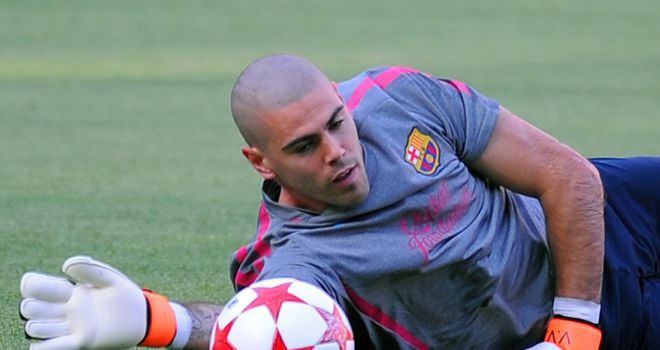 Victor Valdes claims Barcelona and Manchester United have both improved since they last met in the UEFA Champions League final.
Few would argue that Barca have not gone from strength to strength since outplaying United in Rome two years ago, but this season's United team have been branded less than vintage despite winning the Premier League and comfortably reaching Wembley.
However, Barca goalkeeper Valdes feels the Red Devils have also made progress.
Improved
He said: "Both the teams have improved a great deal. We are more mature.
"Manchester has more power offensively than we have.
"Maybe we can find a more offensive Manchester than in Rome."
He added: "Manchester has a lot of potential. That's something we've seen at a lot of matches, including in Rome.
"I really think it will be an intense final and I'm sure it'll be an exciting one."
Some have predicted it could be one of the best finals of all time but Valdes said: "I don't know what to say. We'll see.
"I think a lot of fans have been dreaming of such a final. It's going to happen and we'll see what happens tomorrow."
One thing that is for certain, Barca will not deviate from the peerless passing game which has won them admirers the world over and has led to them being dubbed the greatest club side of all time in some quarters.
Faithful
But Valdes said: "A match is always a match to be won, however you can.
"Fans want us to be faithful to the game we play.
"If we are to win, I think that's the only way we'll be able to do that.
"It doesn't matter how you get there, it's to have that trophy in your hands."