Abidal honoured to lift trophy
Eric Abidal expressed his gratitude after Barca gave him the honour of lifting the Champions League trophy.
Last Updated: 30/05/11 10:47am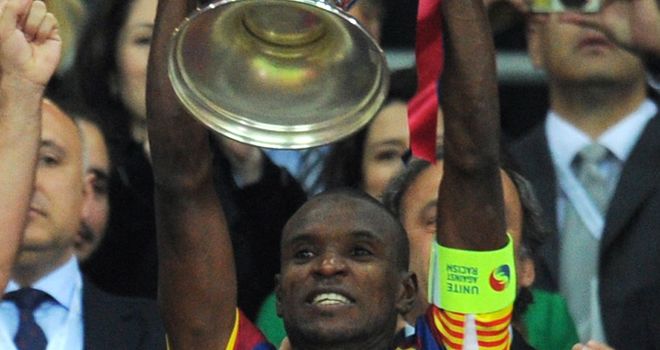 Eric Abidal expressed his gratitude to his Barcelona team-mates after they gave him the honour of lifting the UEFA Champions League trophy.
The defender has completed a remarkable comeback this season after undergoing surgery to remove a tumour on his liver just 10 weeks ago.
Abidal returned to help Barca to European glory in Saturday night's final against Manchester United, and raised the prestigious trophy for the Catalan giants in the aftermath of their 3-1 win.
The 31-year-old was grateful for that honour, saying: "I'm so thankful for the gesture from my team-mates.
"I can't explain the emotions I have. It's spectacular."
Determined
Abidal has admitted he wrote a note to himself after playing for France against England in a friendly last year that he was determined to return to Wembley in the Champions League final.
"When I came out of the clinic, the doctor told me I would be here," said Abidal, whose surgeon had said "See you on the 28th" in a reference to the decider.
Fellow Barca full-back Dani Alves insists the biggest moment of the club's successful season was welcoming Abidal back after his illness.
"Even before (the final), we said our biggest victory, our most important trophy, was the recovery of Abi," said Alves.
He added: "We put on a spectacle for everyone who is passionate about football and who loves football.
"And I think that people who really like football will be very happy because they have seen a great match."