Stars collide
The game's top two players and sides go head-to-head as the Bernabeu hosts El Clasico.
By Tim Clement
Last Updated: 09/12/11 3:23pm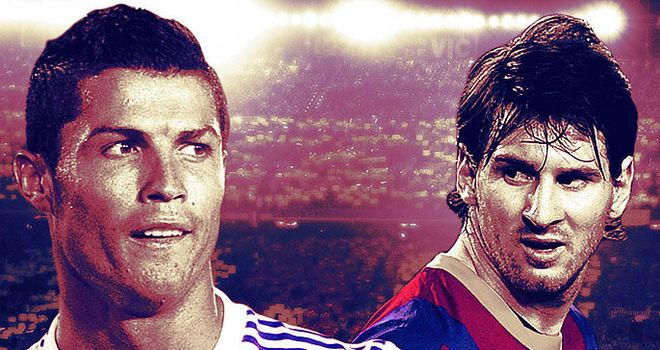 Few occasions present a richer array of talent than the 22 players on show in El Clasico, but still all eyes will be on the game's two special talents.
The recent confirmation of the final three-man shortlist for the FIFA Ballon d'Or was a fitting recognition of Xavi as the game's top midfielder, but the fact that Cristiano Ronaldo and Lionel Messi's places were never in doubt was a clear indication of their status as the top two players in the world.
It is almost impossible to separate the pair in terms of their individual displays over the last year, boasting identical goalscoring records in netting 54 apiece in 2011, with 17 of them coming this season.
Messi is likely to have the edge in the Ballon d'Or voting as he boasts Champions League and Primera Liga titles from last season, compared to Ronaldo's more modest Copa del Rey medal.
But the capital side currently sit top of the table, three points clear with a game in hand following 10 straight wins, averaging 3.9 goals per game during that sequence.
They also boast a perfect record at the Bernabeu this season ahead of Barcelona's visit, with their Portuguese superstar netting five goals in their last two home games.
The Real deal
It is fair to say the capital side are perfectly primed for the visit of their great rivals, with Ronaldo ready to shine in the ultimate show.
But while millions will tune in for a glimpse of the magic that so often lights up La Liga, El Clasico is about so much more than just two of the greatest players of all time.
Firstly, their team-mates aren't too shabby either, with the remainder of the two sides making up the majority of the reigning European Championship and World Cup winning Spain side.
Messi may be carving a reputation as the greatest player of his generation, but there's no doubting he has benefitted from a career in the company of Xavi and Andres Iniesta - a footballing equivalent to an education in philosophy from Plato and Aristotle.
Ronaldo's supporting cast have played catch-up pretty impressively since Jose Mourinho took the reins at the Bernabeu, with Angel Di Maria, Mesut Ozil, Kaka, Gonzalo Higuain and Karim Benzema all more than capable of stepping up when Real's star fails to shine.
Special ones
Then there's the men on the sidelines, two of the game's most respected bosses despite still both being in their 40s.
Few have achieved so much so young in the managerial game as Pep Guardiola.
Having won three La Liga titles, two Champions League trophies and a Copa del Rey for good measure, the former Barca midfielder has left his decorated playing career in the shadows with a magical three-year spell at the helm of Camp Nou.
While eight years Guardiola's senior at 48, Mourinho's achievements might be considered even more remarkable given his ability to mould such an impressive managerial career without the basis of an esteemed playing career.
While Guardiola has provided leadership to an iconic sporting structure at Barca, Mourinho has imposed his unique management style successfully at three of Europe's top clubs.
Now, at his fourth, Mourinho is building a side which look genuinely capable of knocking Barca off their perch at the very top of the game.
While 'The Special One' has hardly been deprived of resources at the Bernabeu, the magnitude of the challenge of surpassing Barcelona should not be underestimated or underappreciated.
Initially Mourinho attempted to utilise a physical superiority to compensate for a technical inferiority, with unpleasant scenes often ensuing as Real unsuccessfully attempted to halt their great rivals.
But, having built a side of both physical prowess and technical excellence, the gap has now been cut to a point where now we are looking at an El Clasico where Madrid are not only favourites to win on home turf, but also favourites to be crowned kings of Spain.
Guardiola's men have commanded the respect of the footballing world with their combination of style and success, but when Messi and co. walk out at the Bernabeu on Saturday evening, they will be walking out to face the biggest threat the their status as best team in the world.