Champagne Vilanova
Guillem Balague told Sky Sports News that Tito Vilanova is the logical successor to Pep Guardiola.
Last Updated: 27/04/12 5:36pm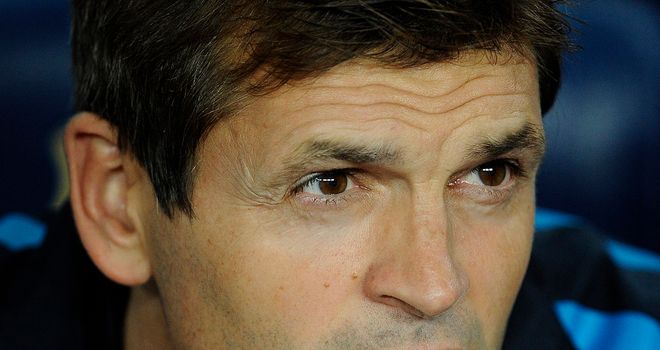 Tito Vilanova is the "logical" choice to succeed Pep Guardiola as Barcelona manager, according to Guillem Balague.
Vilanova, 42, will step up from assistant boss to manager next season after Guardiola announced that he will leave the Nou Camp at the end of the campaign.
The pair both came through Barca's youth scheme - spending four years there together - and when Guardiola was appointed as Barca B coach in 2007, Vilanova was named as his assistant.
The following season Vilanova was promoted along with Guardiola to coach the first team; since then the side has won 13 trophies in four years.
Reflecting on the appointment, skysports.com columnist Balague told Sky Sports News: "If Barcelona are defending the notion that they have a philosophy and an idea, it is just logical that the new coach will be Tito Vilanova, the assistant manager of Pep Guardiola.
"Bill Shankly, Bob Paisley, Joe Fagan - that's the idea; they want to continue with that line.
"They [Guardiola and Vilanova] used to live together in La Masia - that old house where the kids who were from outside the town were living while they were playing with the lower [Barcelona] ranks. They met there.
"Since then, when Pep Guardiola became the 'B' team manager he ran to Vilanova, his old friend, straight away to say 'ok, do you want to join me in this adventure?' Tito said yes.
"He is a quiet man but he's got a great tactical genius mind, you would say; he just perhaps hasn't got the personality of Guardiola and how he will deal with everything that goes with being manager of Barcelona will be fascinating to see."
Pressure
During the Nou Camp press conference Guardiola thanked the players, some of whom were in the room, and admitted that his four-year spell in charge of the club had left him drained and in need of a break from football.
At times the 41-year-old appeared close to tears and Balague said the show of emotion was an indication of how emotionally drained Guardiola has become.
"We've seen him cry before and I think a couple of times he was almost breaking down," said Balague. "You could see how Xavi was breaking down, you could see how the President of Barcelona [Sandro Rosell] broke down when he handed the microphone to Pep.
"But it is what we've been saying for the last couple of days: he is exhausted. If you had the possibility to leave your job with so much pressure, knowing that you are leaving it through the main door, wouldn't you do that? That's exactly what he's doing.
"He knows that he'll come back at some point and he knows that there are other challenges for him in life and he is going to go for them."
He added: "This has been going on for six months. One day at Barcelona was [in his mind] one day less at Barcelona, not one day more so the impression was very clear that the level of work he was putting in, the level of concentration, the level of trying to look for new messages for the players - he uses even more passion than we've seen [in the press conference].
"To actually find that thing that actually makes him win games - that's what he keeps on talking about all the time; he loves his profession because he gets to a point where he just goes 'I've got it, I know how to beat that team.' But to find that every single game, it is exhausting, when you actually have to win all the time.
"The stats are amazing - 76 per cent of his games were victories when he was coach of Barcelona, compared to 58 per cent for Rijkaard, for instance. He's done a great job.
"To continue to do that job, he needs to have that energy that he is admitting he hasn't got any more."