Alex Song explains why he had to walk away from Arsenal to join Barcelona
Alex Song has claimed the chance to join Barcelona was the opportunity of a lifetime and he could not turn it down.
Last Updated: 27/09/12 1:19pm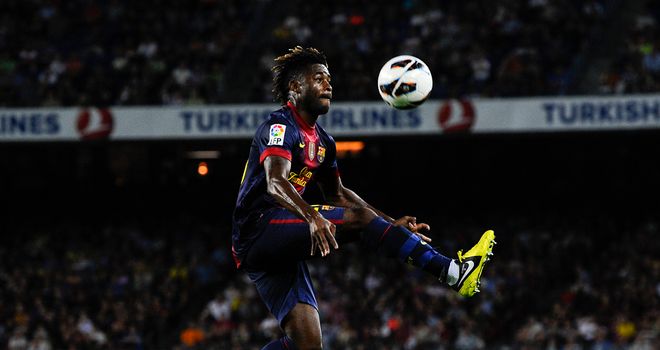 Song left Arsenal for the Camp Nou in a £15million deal in the summer after seven years under the tutelage of Arsene Wenger with the Gunners.
The 25-year-old Cameroon international is grateful for the support he has received from Wenger dating back to his teenage years but felt he had no choice but to leave.
He told El Mundo Deportivo: "It was in July. Barca spoke with Arsenal and Arsene Wenger came to tell me.
"It was hard to convince him and also say goodbye because he really helped me and my family when I arrived at Arsenal at 17 years old.
"When a club like Barcelona want you you can't say no. A chance like this only happens once in life and you must take it.
"I'm hungry. I've never won anything and I have come here to play many games and win it all."
Song has a huge month coming up as Barca must face Cristiano Ronaldo and the might of Real Madrid in El Clasico on October 7th.
With defensive duo Gerard Pique and Carles Puyol out injured, the Catalan giants are understrength but Song is unconcerned, pointing out that he is no novice.
"Clearly, with Puyol and Pique we are stronger but I am ready and I've played against Cristiano in the Premier League," he added.
"I have not just started playing today. I've played over 200 games at Arsenal and I have nothing to be worried about.
"I am not just thinking about stopping Cristiano. What is important is to play and do the job. That is why I have come."