Barca batter Wolfsburg
FC Barcelona put on an outstanding performance this against Wolfsburg at the VW Arena to go top of Group 1.
Last Updated: 04/10/12 1:07pm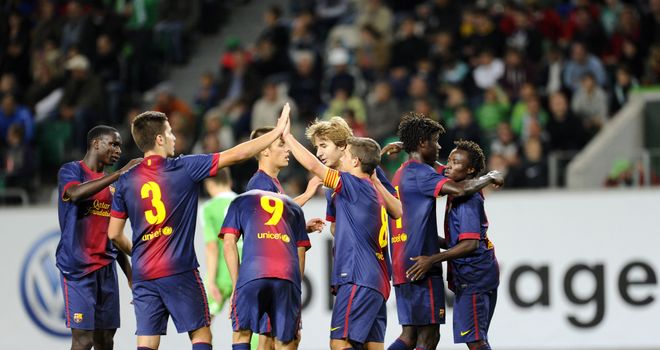 FC Barcelona put on an outstanding performance this against Wolfsburg at the VW Arena to go top of Group 1.
In front of 11 000 fans, the Catalans ripped Wolfsburg apart with Pol Calvet opening the scoring after twelve minutes with a cooly placed shot into the bottom-right corner of the net.
Barcelona captain Nando Quesada made it two-nil on fifty-two minutes after Carl Klaus fumbled the ball into his own net. Cameroonian forward Ebswelle was an ever-present threat throughout the game and grabbed the third, ten minutes before the final whistle.
Two spectacular goals in added time from Joel and Cristian Herrera ended the game 5-0 to send the Catalans four points clear at the top of Group 1.
Meanwhile at Firhill Park, Celtic scored three goals in the opening 25 minutes to seal an impressive win against PSV Eindhoven.
The Scots came into the game off the back of two defeats, but started the game very well, scoring three goals in 4 minutes to shock the visitors with Patrick Twardzik, Callum McGregor and John Herron on target.
The Dutch side clawed a goal back just before half-time through Geraldo Antonio Antonio but a second-half fightback wasn't enough and Celtic held our for a 3-1 victory.
The win takes the Scots above Aston Villa into third place in Group Four.
And finally, Chelsea got their first points in the NextGen Series against the previously undefeated CSKA Moscow side in Russia.
The game was fiercely competitive, with both sides keen to make an impact in the centre of midfield.
The hosts were reduced to ten men on fifty-three minutes when Anton Polyutkin was red-carded for a dangerous challenge, and subsequently the momentum swung in Chelsea's favour.
Jeremie Boga punished the hosts on seventy-one minutes to give Chelsea a 1-0 lead. However, Jordan Houghton of Chelsea was given a second yellow card seven minutes later which saw both teams down to ten men.
CSKA pushed hard for an equaliser but couldn't find the net, and the Blues brought the Russian's undefeated run to an end.