Barcelona midfielder Alex Song claims Arsene Wenger treated him like a son
Barcelona midfielder Alex Song claims former boss Arsene Wenger was like a father to him at Arsenal.
By Francisco Acedo
Last Updated: 15/10/12 6:42pm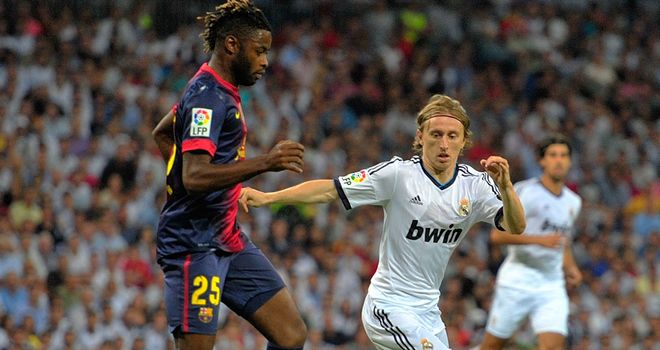 The Cameroon international left the Gunners for the Catalan giants in the summer but remains grateful for the support he received from the long-serving manager.
"I am who I am thanks to him," he told Barca Magazine.
"When I came to England, he was a big help to me. I was very young, just 17, not 25 like I am now. Wenger was like a father to me.
"It was very hard for me at first because I had left my family behind in France, and so he treated me like a son.
"I have a great relationship with Wenger. I want to thank him for believing in me. I want to give him back everything he gave me I'm sure he's happy to see where I am now and the kind of player I have become.
"He always said 'do you remember your first touches of the ball when you came to Arsenal? They're not the same as they are now'. And I'd answer 'you're right. They're certainly not the same as they are now'."
Adapting
Song is settling in well to life at Barca and insists he has had no problems adapting.
He added: "The food is fine. What I've seen of the city I love and we have a great team. Everything is perfect. It has been very easy to come here and adapt."
It has helped to have former Arsenal team-mate Cesc Fabregas already at the club and Song has been leaning on the Spain international in the early months of his time at Camp Nou.
"I have known him for a long time and I slept at his house for the first few nights I was here," said Song. "He's a good friend. He tries to help me in training, in every game, on and off the field."
"I asked for advice because he knows the city of Barcelona very well. He was born here and has advised me well. He told me what to do and what not to do."