Champions League: Andres Iniesta says Chelsea among the biggest threats to Barcelona
Barcelona star Andres Iniesta believes Chelsea are among the strongest teams in this year's UEFA Champions League.
By Lucas Brown
Last Updated: 25/10/12 4:53pm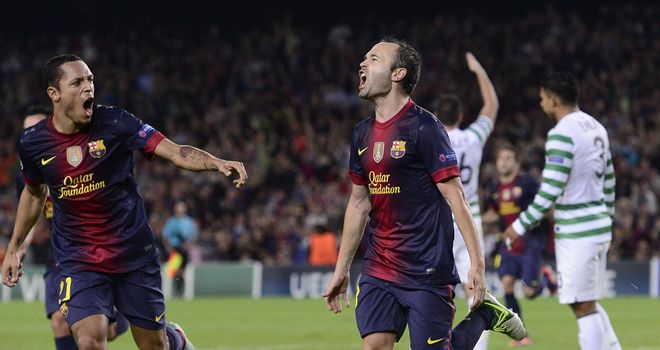 The Barcelona star sees Roberto Di Matteo's side - who beat the Catalans on the way to winning the trophy last year - as one of the main threats in this year's competition, alongside Bayern Munich and Real Madrid.
But he also believes other sides are capable of lifting the trophy at Wembley in May.
"Chelsea, as current holders, Bayern and Madrid are the strongest teams in this Champions League, although there a number of teams that have a chance to make it as well," Iniesta said.
"It is a very difficult competition and very unpredictable. One bad game and you can go out."
Barcelona scraped past Celtic 2-1 on Tuesday to preserve their 100 per cent record in Group G this term, with Iniesta netting the equaliser.
"It is ten years now [since his Champions League debut] and I have improved and become a better player," Iniesta added.
"I have done all I can to be at my best to play for Barca and the Spain team, but I never dreamed that things would go as well as they have done.
"I feel privileged and hope that I can continue playing for a few years yet."