Tito Vilanova pleased with Barcelona display in Champions League defeat to Celtic
Barcelona boss Tito Vilanova was pleased with his side's performance in their 2-1 Champions League defeat at Celtic.
Last Updated: 08/11/12 1:22pm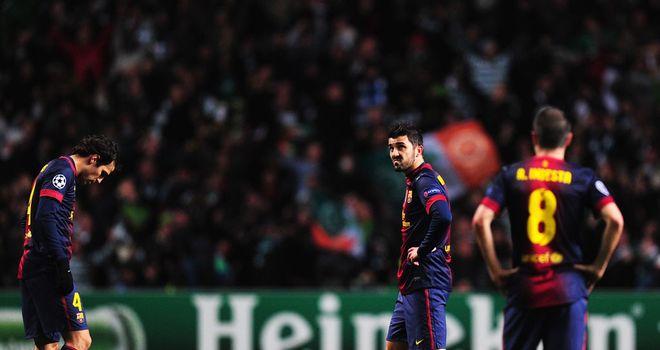 The Scottish champions defended deep and narrow, not allowing Barcelona space to play the intricate passes in and around the box which characterise their play.
Despite the visitors dominating possession, Victor Wanyama and Tony Watt put the hosts two up before Lionel Messi netted late on to give Barcelona hope.
It was their first Group G defeat, but Vilanova's side still have qualification in their own hands and are two points clear of Wednesday night's opponents at the top of the table.
"We read the game well, we created a lot of chances but we weren't on target and their keeper was brilliant," Vilanova said.
"We did what we needed to do in these types of games, we've seen this on other occasions. This is the type of football that the Barca fans want to see.
"Besides, I prefer to have an enjoyable time watching the team from the bench. I'm pleased because they gave it their all until the end."
Barcelona will travel to Spartak Moscow in two weeks before hosting Benfica in the last game of the group stage and Messi is not concerned about his side's chances of qualifying for the knockout stages.
"We're still in first place in the group, we're not worried," he said. "I think we did a good job, we created chances but the ball didn't go in.
"The same thing happened at the Camp Nou. They played defensively and they waited to make fast counter attacks. They are very comfortable on corners and set pieces, and that's how they scored their two goals."
Jordi Alba was equally pragmatic about the result and believes he is beginning to settle into the side following his summer transfer from Valencia.
"If we hadn't had the chances we created I wouldn't be leaving with the feeling I have, but it's time to focus on our next match," he said.
"We're coming up against teams that close themselves off at the back and we're finding it difficult to get into the opposing team's area, but we're not worried about it.
"The match allowed for the right and left-backs to push forward. Each day I'm feeling better and more comfortable when I go forward.
"They created chances on set pieces because they know we're not a very tall team, but we also created a lot of chances but their keeper was brilliant."