Tito Vilanova warns Barcelona they are "not invincible" after 3-1 win at Malaga
Barcelona coach Tito Vilanova has urged his players not to ease up after seeing them set another record on Sunday night.
Last Updated: 14/01/13 8:40am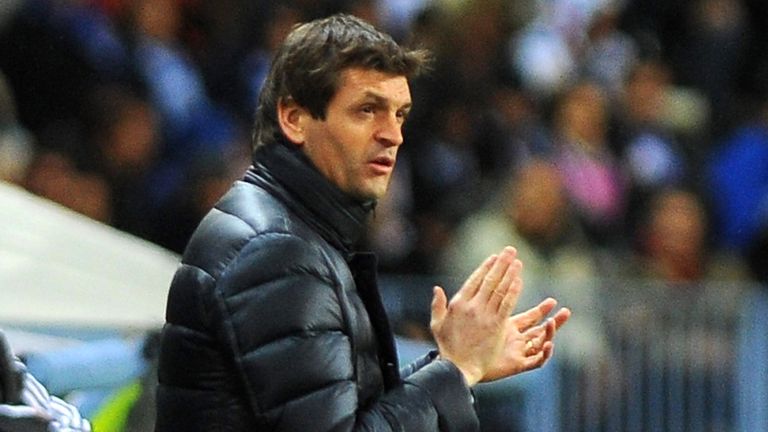 No team in history have boasted more points at the midway stage of a top-flight season in Spain after Sunday night's triumph at La Rosaleda left Barca with a remarkable 55 points from a possible 57.
The victory also left them 11 points clear of second-placed Atletico Madrid at the top of the standings and a massive 18 points ahead of reigning champions and arch rivals Real Madrid in third.
However, Vilanova, who again sat on the Barca bench while he continues his battle against cancer, is determined not to let his players rest on their laurels.
He said: "It's fantastic but we can't stop here.
"We are not invincible. Everything we've achieved up until now is thanks to the effort we've put in and our eagerness to win. The day we don't play at a high level is the day we lose."
On the possibility of continuing their stunning form throughout the whole campaign, Vilanova admitted: "It wouldn't be normal. There is the Champions League and the Copa del Rey... we need to go to Atletico, to Madrid.
"It was unthinkable to have this advantage at the start of the season."
Vilanova also described football as "the best therapy" for him in his cancer fight.
Vilanova underwent an operation on a tumour on his parotid gland last month before beginning a course of chemotherapy but the 44-year-old returned to work sooner than expected after taking charge for Barca's derby win over Espanyol earlier this month.
He was absent for last week's Copa del Rey win over Cordoba but was back on the touchline last night.
He said: "I've had a lot of messages of support, but I want my work to be the focus of attention, not my illness. I feel good and I can come to work. Football, for me, is not a job, but something to enjoy. It's my best therapy."