Angel Di Maria is confident Real Madrid can excel in the Copa del Rey
Angel Di Maria is confident Real Madrid can put aside their disappointing league campaign in the Copa del Rey.
Last Updated: 14/01/13 2:48pm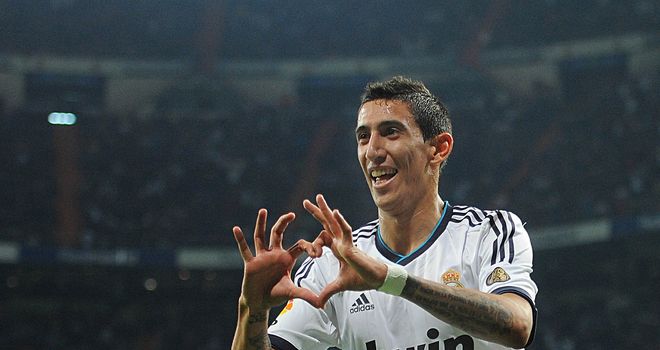 Madrid head into Tuesday's first leg at the Bernabeu with their Primera Division title defence seemingly in tatters after falling 18 points behind Barcelona in the wake of their goalless draw at rock-bottom Osasuna on Saturday.
That result left Madrid with just one win in their last four league matches but Di Maria hopes the cup can spark his side back to life.
"I think we can do it. We know it's very difficult to win the league, and the cup and Champions League are two major objectives left this year. And that's an important motivation.
"We need to be at the same level as we played against Celta," he added, referring to their success in the previous round when they won 4-0 in the second leg after trailing 2-1 from the first.
Madrid would love a similar victory on Tuesday night, but with Valencia having won seven of their last eight matches in all competitions, Di Maria knows it is going to be tough.
"It's a very complicated tie and a bad result at home could knock us out. Valencia are difficult and we're not doing well in the league, but when we played against Celta we had to win and we gave it everything and managed to do it with a player less.
"We need a good result to be relaxed going to Valencia. They are going through a good moment."
In a quirk of the fixture list, Madrid and Valencia also face each other in the league this weekend before meeting in the second leg next week.
It is a similar story in the quarter-final clash between Barcelona and Malaga, with the pair having also met in the league on Sunday.
Barca won that match 3-1 to finish the first half of the season with an astonishing 55 points out of a possible 57 - a Primera Division record.
Tito Vilanova's men were convincing winners in that clash, but midfielder Andres Iniesta knows his side need to start again from scratch when they host Malaga in the cup first leg on Wednesday.
He said: "It's always more complicated when you play the same team consecutively. It's very important to get a good result at home."
Barca winger Pedro Rodriguez, whose side will face arch rivals Madrid in the semi-finals if both teams get through, added: "Malaga have shown us they are a good team and they'll make it difficult for us in the cup."
This week's other two quarter-final first legs see league high-flyers Atletico Madrid host Real Betis on Thursday, and Sevilla go to Real Zaragoza on Thursday.