Tito Vilanova delighted at Pep Guardiola's return to football
Tito Vilanova says he is delighted Pep Guardiola is returning to football and to "one of Europe's greatest clubs".
Last Updated: 17/01/13 11:43am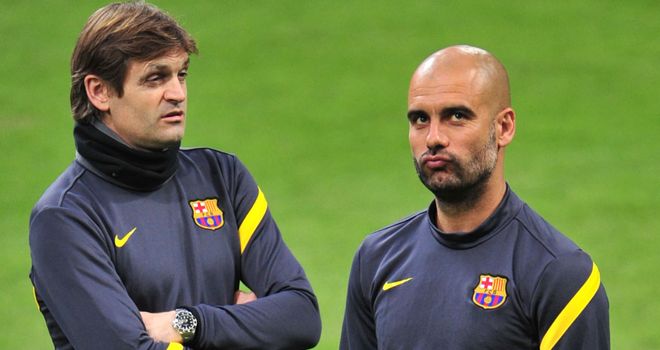 Guardiola took a year-long sabbatical after leaving the Nou Camp last summer and announced his three-year deal at Bayern Munich on Wednesday, where he will take over from current manager Jupp Heynckes when he retires at the end of the season.
Vilanova, who was Guardiola's assistant during his four record-breaking years at Barcelona, admitted he was unaware of the Spaniard's decision prior to the announcement.
"I didn't know where he was going, I didn't know anything. I suppose he couldn't say. I'm very happy that he's returning to football and to one of Europe's great clubs," he said.
"I don't know what possible teams he could have gone to, nor the kinds of contracts he was offered but I'm sure they were all of the top level. He had time to choose and would have thought it all over very well.
"What's clear is that he couldn't go wrong because they were all top teams. And Bayern are an historic club, with four Champions League titles with some fantastic facilities."
Guardiola's decision has also gone down well with others at the Nou Camp.
Barcelona's sporting director Andoni Zubizarreta said: "I'm very pleased for Guardiola. It means that he's doing well and that he's well rested, it means that he's eager to return to the world of football. Bayern have made a great signing.
"Bayern are a club that can offer you a solid and stable project, they also have good players. He's found what he was looking for and I'm happy.
"I'm sure that he will bring something new and will oblige all of us to move forward."
Barcelona captain Carles Puyol told the club's official website: "They (Bayern) are a very good team and he is a great coach. He's going to one of the greats in Europe and we wish him the best."