Jeff Stelling blogs on falls from grace for Barcelona and Arsenal
Jeff Stelling blogs on Barcelona's fading Champions League hopes and Arsene Wenger's future.
Last Updated: 22/02/13 1:09pm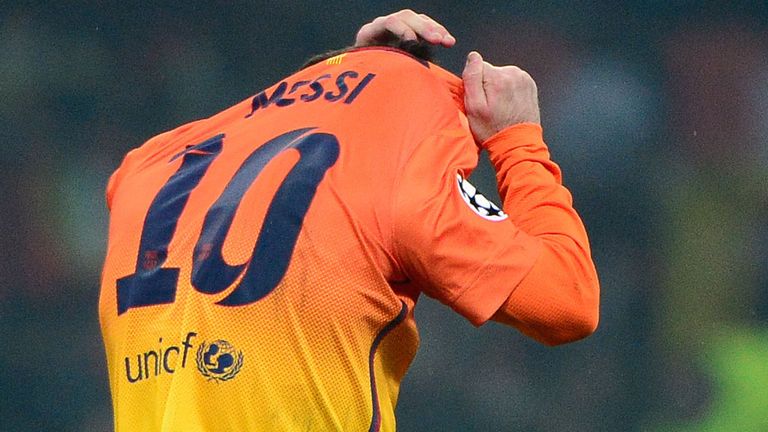 The Catalans were a pale shadow of their best selves against AC Milan on Wednesday and there has to be real doubt as to whether they can make the quarter-finals.
In recent seasons a last-eight line-up without Barcelona would have been unthinkable - if you were drawn against them you were as good as out - but I just wonder if we are just beginning to see the end of their 'invincible' era.
As Milan proved at the San Siro, and as Chelsea illustrated last season, the top teams appear to believe they've found a way to overcome Barca's previously irresistible style of play.
Milan's plan worked to a tee; they got as many men behind the ball as possible and largely let Lionel Messi have it in areas where he couldn't affect them, before attacking Barca on the break.
They made Barcelona look impotent; the visitors never looked like scoring and in the end the game was as comfortable for Milan as a match against Barcelona has been for anyone in the past five or so years.
Even allowing for the absence of Tito Vilanova, Barcelona's lack of ideas was surprising. When their intricate passing game didn't find a way through Milan's mass defence there was no 'Plan B'.
Milan will play in exactly the same way away from home so we might find out a little bit more about Barcelona's adaptability and versatility in the second leg.
But for now Sky Bet have installed Bayern Munich as 3/1 favourites to lift the trophy at Wembley on May 25, with Barcelona slipping to 9/2.
Outclassed
Barcelona against Milan may be in the balance, but the same can't be said of Bayern against Arsenal.
Arsene Wenger's side were outclassed in the first leg by a Bayern side that, let's be honest, didn't need to get out of second gear.
If Arsenal go to the Allianz Arena and don't compete then the second leg could be more embarrassing than the first.
The bottom line is that Arsenal weren't good enough in too many areas at the Emirates. They're playing in Europe's premier club competition but how many of the best players in Europe are in the Arsenal squad?
I'd say there's possibly one - Jack Wilshere, who is carrying a lot of weight on his young shoulders.
Santi Cazorla is a good player but is he one of the best midfielders in Europe? No. Is Theo Walcott one of the best central strikers in Europe? No.
Over the years Arsenal have allowed the quality needed to succeed at the top level trickle out of their squad - you know the names, Robin van Persie and Cesc Fabregas to name but two.
Rarely has the difference between where Arsenal want to be and where they really are been so apparent as it is now.
The target now is to finish fourth in the Premier League but every year that goal becomes more difficult to attain.
There's no use in saying, rightly or wrongly, that there is a £70m kitty for Arsene Wenger to dive into because which elite European players will want to go to a side that may not even be in the Champions League next season?
If that happens, it might well be some time before they return.
Tormented
This could be a good time to play Aston Villa - Arsenal's opponents on Saturday - or it could be a catastrophic time to play them.
Villa have got all sorts of defensive weaknesses but Christian Benteke must be relishing the prospect of playing against an Arsenal defence that he knows will give him opportunities.
If Arsenal were to slip up against Villa, the pressure on Wenger will be absolutely immense - particularly with league games against Spurs and Everton, plus the return leg against Bayern, to come.
Wenger has done a fantastic job at Arsenal but sometimes you can stay in a job so long that you can't see the wood from the trees.
He said this week 'you'll be sorry when I go' and yes, we will be because he is fantastic for the game in this country and he's been fantastic for the media. But maybe he has now gone as far as he can?
When the day comes for Arsene to leave, he must be the one to make the decision. He shouldn't be pushed out after all he's done for the club.
But, as I mentioned before Christmas, it's so painful watching him agonise over Arsenal's fortunes that I'd almost wish he'd say 'I've had enough of this for now'.
I, for one, don't want to see such an engaging man so tortured and tormented as he appears to be.
Jeff's Gem of the Week
Peterborough's 5-1 win away at Millwall was a sensational result. George Boyd scored twice but imagine how much better he'd be if he could see the goal! In all seriousness, what fools the people at Nottingham Forest must feel having rejected Boyd on the basis that his eyesight wasn't up to scratch. Whatever situation Peterborough find themselves in, they play fantastic, attacking football. Darren Ferguson is a classic chip off the old block (even if he is a lot less fearsome than his Dad!). They unearth players from lower league and non-league football time and time and time again. They have a relatively wealthy financial backer these days, in Darragh MacAnthony, and I'm really pleased to see their form picking up because they play the game in the right way. It would not surprise me one jot if Peterborough survive this season.