Barcelona's Eric Abidal grateful to fans after making long-awaited return
Eric Abidal has admitted it felt special to be given a standing ovation as he made his Barcelona comeback.
By Francisco Acedo
Last Updated: 07/04/13 12:02pm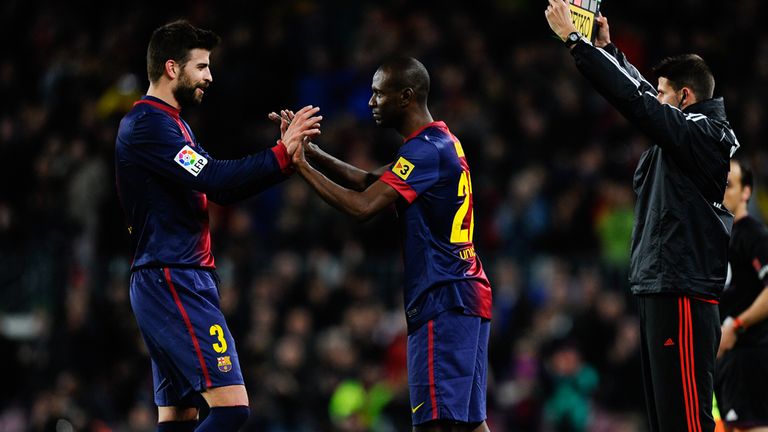 The 33-year-old defender played for the first time in 402 days as he came on to replace Gerard Pique in the 70th minute of Barca's 5-0 rout on Saturday.
He underwent a liver transplant last April, having previously had surgery to remove a tumour in March 2011, and was thankful to the fans for the way they welcomed him back.
"It was a long (lay-off)," he told L'Equipe. "I really struggled. I received a lot of support through this year and this was the most important thing. From my wife, my parents, my friends, but also the fans of Barcelona too.
"Without them, I would not have returned to football. It was a unique moment. I really enjoyed these 22 minutes, as I was told I played 22 minutes.
"My goal was to return. Now it is done and I try to look a little beyond this...
"After a year of effort and hard work, the ovation is the best thing I could have had."
Abidal added that he remains a long way short of full fitness and unable at present to play 90 minutes, with an hour in a friendly against Istres the most he has managed to date.
"I hope to be part of the group until the end of the season," he added. "Whether on the bench or in the stands, it is not too important. The most important thing is to feel good and enjoy all these moments with my team-mates."
Coach Tito Vilanova was also back in the Barca dugout following two months in New York undergoing cancer treatment.
Abidal recognised the parallels between their two stories, adding: "I'm very happy because Tito is back with us and knows that players are always on hand to help."
Abidal admits he could be an example to others battling illness, saying: "I might be, but unintentionally. In life there are people who have good and bad days. I have fought for people I love. I can be an example of struggle and not getting discouraged."
Assistant coach Jordi Roura dedicated the win over Mallorca to Abidal and Vilanova.
"It was a special day," Roura said. "We were able to witness Eric Abidal's return and, after many days, Tito Vilanova once again sat on the bench at the Camp Nou.
"It was a special moment for the whole team. We know that Eric is very much loved by everyone. Personally, I'm very happy and pleased."
Extraordinary game
There was plenty to celebrate in the performance too, highlighted by Cesc Fabregas who scored a hat-trick and created two more for Alexis Sanchez.
"Cesc adapted his play perfectly to the position of a false nine," Roura added. "He played an extraordinary game. He's an additional option that we have. But I'd also like to highlight (Alex) Song's game. In fact, everyone played well."
Barca now have just a few days to prepare for the second leg of their Champions League quarter-final with Paris St Germain following a 2-2 draw in the first leg.
However, Roura was giving little away regarding Barca's plans.
"This Saturday we opted for this pair of centre-backs (Pique and Marc Bartra)," he said. "We'll see which players we use in those positions on Wednesday against PSG. We have to talk it over with Tito. We won't obsess about what their [PSG] characteristics are.
"A three-man defence and a 'robo' (diamond) in the middle of the pitch is also an option. We have a lot of options."