Andres Iniesta: Barcelona defeat to Bayern not end of an era
Andres Iniesta has rejected claims that Barcelona's 4-0 defeat to Bayern Munich signalled the end of an era.
Last Updated: 26/04/13 1:42pm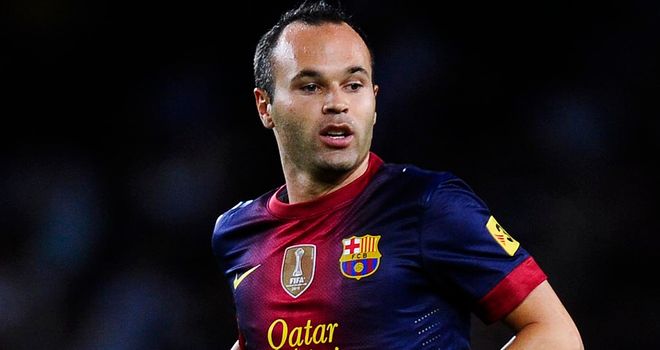 The Bundesliga champions swept aside the revered Catalan side with astonishing ease in Tuesday's semi-final first leg, inflicting their heaviest European defeat in 16 years.
Chelsea, Celtic, Milan and Real Madrid have all defeated the tika-taka exponents in the last year but Iniesta shrugged off suggestions that the football model to follow has moved from Barcelona to Munich.
"I think it is unjust to talk about the end of an era," he told a press conference in Barcelona.
"This team in the past five years has won two Champions Leagues, been to three more semi-finals, we are about to win a fourth league in five years, we have won Supercups and everything else, it has been a blessed cycle of success.
"That is many years winning and fighting for everything. If you analyse five years in one game against Munich it doesn't make any sense. For me, the end of an era is when years pass and you don't win titles.
"People need to have a lot of respect for this squad, manager and club in general.
"Evidently we need to improve but this is an evolution that the club has to have. It doesn't make sense to me to talk about the ending of an era."
No side has before overturned a 4-0 first leg deficit in the Champions League but Iniesta insisted pride would be at stake at Camp Nou on Wednesday.
"They (Bayern) are in a very good moment right now and we need to recognise their superiority," he added. "Other opponents have recognised it with us.
"It hurts to not have been able to live with the demands that Bayern imposed on us but we need to appeal to our faith a little for the return leg. If we are going to go out, we need to do it giving everything."