Andres Iniesta urges Barcelona to pick themselves up after Bayern blow
Andres Iniesta wants Barcelona to ease their pain by taking another step toward regaining the Primera Division title.
Last Updated: 26/04/13 1:14pm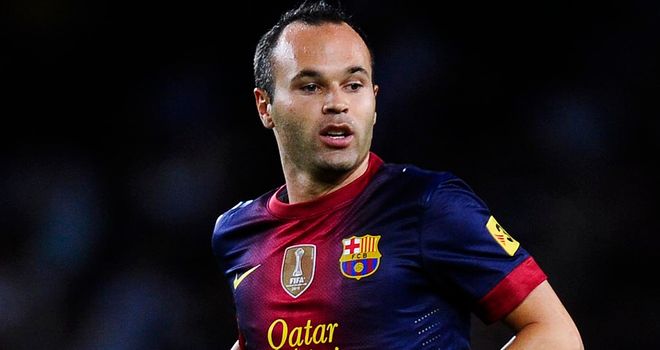 Barca go into Saturday's clash at Athletic Bilbao with the wounds from their 4-0 semi-final first-leg thrashing by Bayern Munich on Tuesday still raw.
As well as all but ending their hopes of becoming European champions this season, the defeat has prompted talk of the end of an era at the Nou Camp and, combined with Borussia Dortmund's 4-1 win over Real Madrid, a power shift in the European game from Spain to Germany.
Iniesta, though, knows there is only one way for he and his beleaguered team-mates to respond.
"The only thing to do is to pick ourselves up and get back to winning the league," he said.
"Now we have to switch our focus, go to Bilbao, win and ensure that the league title is one game closer.
"Athletic will demand that we are at our best. We have the experience of playing them over the last few seasons and we know that it will be an intense and physical game."
Barcelona are 13 points clear at the top and could even secure the title on Saturday should they win and second-placed Real lose at derby rivals Atletico Madrid.
Any celebrations would surely be bitter-sweet with the memories of Munich still so fresh, but Iniesta claimed taking back the title would represent a successful season.
The Spain midfielder added: "This has been one of the toughest leagues of recent years and to come back and win it after we lost it last season is very important.
"It can't be called a bad season when you win the league. The Champions League might be more prestigious, but the league is the most important.
"It would be a mistake to say this had been a poor season, just because we didn't win the Champions League."
For all Barcelona's current travails, Athletic's problems put them in perspective.
Last season's Europa League and Copa del Rey runners-up still need points to mathematically guarantee their safety, although their eight-point cushion over the relegation zone with six games to go could be enough.
While Athletic have not won in three games in the league, Barca have won their last three, scoring nine and conceding none.
And Athletic boss Marcelo Bielsa feels it is premature to draw drastic conclusions about the strength of the Primera Division based on two games.
"Comparing two leagues from two games and two results offered such sweeping conclusions seems excessive," he was quoted as saying by Marca.
Barcelona still have problems at the back with the injured Carles Puyol and Javier Mascherano both still unavailable.