Tito Vilanova refusing to give up hope of Barcelona reaching Champions League final
Tito Vilanova has promised his Barcelona players will give every ounce of effort against Bayern Munich on Wednesday.
Last Updated: 01/05/13 8:52pm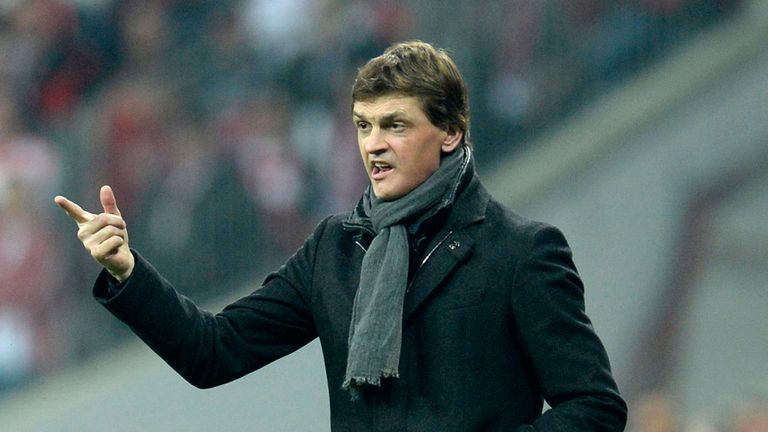 The Spanish side have a mountain to climb on Wednesday evening if they are to reach the final at Wembley after they were comprehensively outplayed in Germany last week.
But Vilanova insists his players have not yet given up hope of sending Barcelona to a third Champions League final in five years.
"We are Barca and we cannot give up on a tie, there are still 90 minutes left," Vilanova said.
"I don't think Bayern believe it is over either though they are better off than we are.
"If we lose, at least we have to do it with our heads held high and playing on until the end of the match, not throwing in the towel and making our fans proud of us."
Centre back Gerard Pique added: "It is a day when we should all become kids again to be as excited and hopeful as they are and lose our common sense a little bit.
"That might get us through, but it is very difficult."
"I know that it is complicated. But of course it can happen. I believe that the only team capable of overturning a four-goal deficit against Bayern is Barcelona."
Messi
Vilanova has backed Lionel Messi to "have things to say" in his side's bid to make Champions League history on Wednesday night.
Messi was thoroughly overshadowed at the Allianz Arena a week ago, leaving Barca needing to stage the greatest fightback the competition has seen to make the final at Wembley.
The Argentinian has been troubled by a hamstring injury, which appeared to affect him in Munich, but he came off the bench and scored against Athletic Bilbao at the weekend.
Vilanova said: "The more in form he is the better our chances of getting to the final, but we can't heap this kind pressure on him, we have to try to help him.
"A player as good as Messi, at this point in the competition, will have things to say in tomorrow's match."
Vilanova also emphasised the need for patience, pointing out Bayern only led 1-0 at half-time in the first game.
And he called on the Nou Camp faithful to play their part and create an atmosphere every bit as partisan as Bayern enjoyed last week.
"If we are going to mount a comeback we need our fans. Both Bayern and Borussia (Dortmund, who won 4-1 at home to Real Madrid in their semi-final first leg) had extraordinary atmospheres last week and that carried the teams forward.
"We will do our part so that fans find it easier to do theirs."
Barca will definitely be without defender Javier Mascherano through injury, while midfielder Sergio Busquets is a doubt with a slight groin problem.