La Liga: Jose Mourinho congratulates Barcelona on title triumph
Real Madrid coach Jose Mourinho congratulated Barcelona after his side's 1-1 draw with Espanyol ended the title race.
Last Updated: 12/05/13 8:29am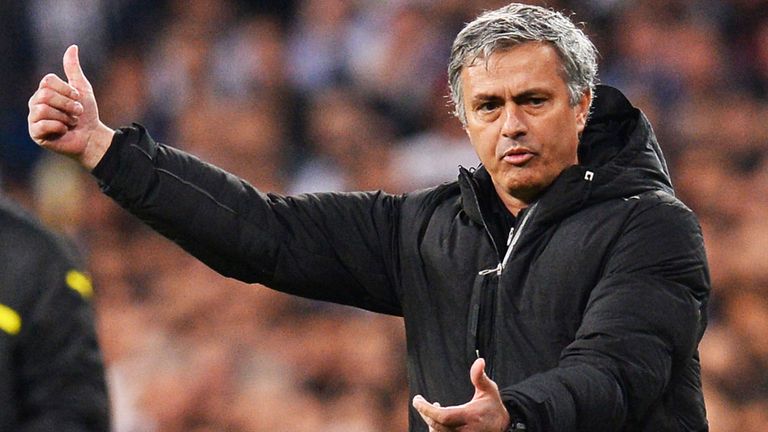 Holders Madrid needed a victory at the home of Barca's city rivals to prevent Tito Vilanova's men from taking their title.
But they were disjointed and off the pace in the first half which was dominated by Espanyol, who were unfortunate to only have a one-goal lead courtesy of Christian Stuani's 23rd-minute strike.
Hector Moreno incorrectly had a goal disallowed as Real appeared to have one eye on next Friday's Copa del Rey final against Atletico Madrid, with key men including Cristiano Ronaldo on the bench.
The second-half introduction of Ronaldo was followed moments later by Gonzalo Higuain's 58th-minute equaliser but Madrid could not find a winner and the title went to Barca.
"First of all I want to congratulate Barcelona, their coaches, their players, their managers and their fans," Mourinho said on www.realmadrid.com. "They have just won the league title, which was ours until now, and I think the least we can do is congratulate them.
"Last season we won and wanted, justifiably, to speak about a great league campaign and I think it makes sense at this point is to congratulate the champion. You should give the champions the importance they deserve."
Mourinho stood by Pepe's continued absence from the team.
The defender was in the stands to watch the game against Espanyol having recently backed Iker Casillas in his row with Mourinho, who has favoured Diego Lopez over the Spain number one of late.
Mourinho said: "It was my decision and that's it. I'm the coach. I don't have to justify anything.
"From the first to the last day I'll always be the one to decide. Sometimes I can share the reasons for my decisions and sometimes not, I'll take that option.
"On Friday you'll see who plays and it will always be my decision and responsibility."
Pepe could yet find himself in contention to play in Friday's cup final as Raphael Varane, the young centre-back who has taken his place in the team, picked up a knee injury against Espanyol and looks set to miss the game.
Mourinho said: "I don't want to second guess what the medical services have to say but at this point it looks like there is a certain degree of gravity, fairly serious let's say and it is impossible that he will play the cup final or the two or three matches left until the end of the season.
"We have alternatives. It is a position in which we have people who are playing well and that's good.
"We are obviously sorry that he cannot play in match that everyone wants to play, but there's no need to make a drama about it because we have solutions."
Xabi Alonso, who replaced Varane in the first half, turned his attention to Friday's game.
"The aim now is the cup and we have fight for the title that we have left to play for," he said. "There are six days to prepare and that's what we are thinking about.
"We are very motivated, eager to play a great match and lift the trophy in our stadium, albeit on neutral soil."