Barcelona coach Tito Vilanova feels side were deserved winners of La Liga
Barcelona coach Tito Vilanova feels his side were deserved winners of the Primera Division this season.
Last Updated: 13/05/13 10:26am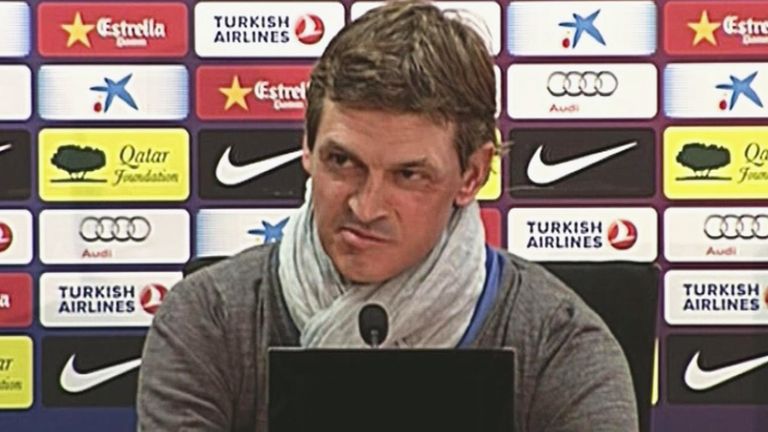 Barcelona coach Tito Vilanova feels his side were deserved winners of the Primera Division and hailed his players' mental strength at not being affected by the general assumption in Spain that the title race was over months ago.
The Catalan giants were crowned Spanish champions for the fourth time in five years after nearest challengers Real Madrid were held to a 1-1 draw at Barca's local rivals Espanyol on Saturday night.
Barca had long been overwhelming favourites to claim the title, not least in January when they were 11 points clear of second-placed Atletico Madrid and a massive 18 ahead of biggest rivals and defending champions Real in third.
However, Jose Mourinho's men had refused to give up their crown without a fight and a run of 12 wins and a draw from 13 matches heading into this weekend's fixtures meant Barca's title celebrations had been kept on ice.
Madrid could not keep up their challenge any longer though, and Barca's 22nd Primera Division success has now been secured.
Speaking after his side's 2-1 victory at Atletico Madrid on Sunday night, Vilanova said: "We've been the best team in the league, without doubt."
Barca started the season on fire, winning 18 of their first 19 matches while drawing the other, and Vilanova admits that was decisive.
"We knew that we had to pick up points from the start of the season because the big teams usually lose some in the first few weeks," he said.
"We started well and this gave us a good advantage.
"After, when everybody had already given the title up as won, we've been strong mentally to cope with the pressure of a Real Madrid who have had a great second half of the season."
Vilanova, who replaced record-breaking coach Pep Guardiola last summer, also feels it has been a good campaign despite the fact Barca were knocked out of the Champions League and Copa del Rey at the semi-final stages.
"To regain the title just a year after failing to do is fantastic," he was quoted as saying by his club's website.
"A season in which you win the league is always good. We're disappointed we haven't been able to do better in the semi-finals of the Champions League."
Looking ahead, Vilanova said: "Next season will be more difficult still but we will try to be right there once again."