Tito Vilanova congratulates Brazil star Neymar for picking Barcelona
Barcelona coach Tito Vilanova has congratulated Neymar for choosing the "sporting option rather than the financial one".
Last Updated: 27/05/13 12:41pm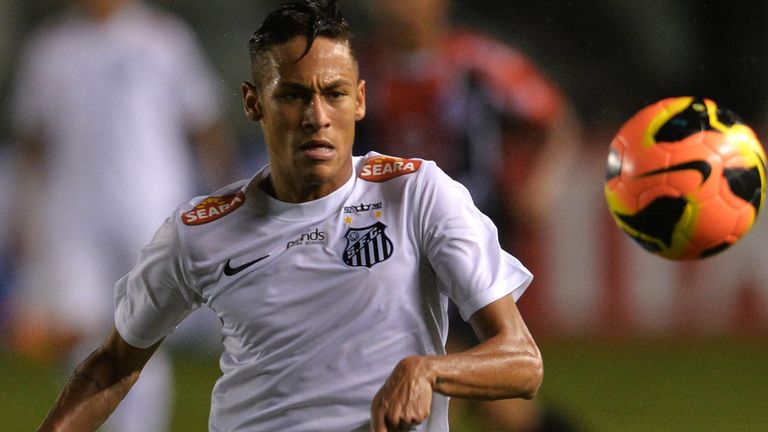 The Primera Division superpowers waged a long battle to secure the services of the 21-year-old striker, who revealed on Sunday he had chosen to join Barca from Santos.
Speaking after his side's 2-0 win at Espanyol on Sunday, Vilanova said: "I'd like to thank the club and the scouting staff who spotted the possibility of the fact this player would become a great one.
"I think other clubs perhaps weren't aware of that fact and it's made things easier now, because if we'd waited perhaps we wouldn't have been able to compete with other clubs - I think he has received bigger offers from other clubs.
"I'd like to congratulate the player for picking the sporting option rather than the financial one - I'm sure there were other clubs who could offer him a lot more than we can."
Neymar, whose transfer fee has not been disclosed, will sign a five-year contract at the Nou Camp, with the player himself revealing this will likely be done on Monday.
His deal at Santos was due to expire at the end of next season and some reports had suggested an agreement with Barcelona was reached as much as a year ago.
While most fans of Barcelona will welcome the arrival of such an exciting talent, some in the media have expressed concern that his elaborate style of play will not fit with Barca's cultured passing game.
Vilanova concedes it may take time for Neymar to become the finished article in Europe, but he is confident he will be a success.
"He'll bring us things but we'll also have to think about the players we have here," Vilanova said.
"We have to see how he adapts to European football but we're confident.
"We're here to help him and make him an even better player."
Tears
Neymar broke down in tears as he lined up for his farewell game for Santos against Flamengo just hours after revealing his chosen destination, and admitted afterwards: "It was very emotional."
Writing on Instagram on Sunday, Neymar said: "I want to thank the fans of Santos for these incredible nine years. My feeling for the club and the fans will never change. It is eternal!
"Only a club like Santos FC could give me everything I have experienced on and off the field. I thank the wonderful fans who supported me even in the most difficult moments.
"Titles, goals, dribbling, celebrations and songs that fans created for me will be forever in my heart..."
Neymar is a superstar in Brazil, and his departure comes as a blow to fans of Santos, who had hoped he might stay until after next year's World Cup.
With Neymar, who made his debut as a 17-year-old in 2009, Santos have enjoyed their greatest period of success since Pele was playing for the club, winning three straight Campeonato Paulista titles and the Copa do Brasil.
The crowning glory came in 2011 when the club won the Copa Libertadores for the first time since 1963 and Neymar was named the South American Footballer of the Year as well as winning the Puskas Award for the world's best goal.
Neymar played all 90 minutes of his final games for Santos, a 0-0 draw against Flamengo.
Afterwards he said on marca.com: "It's a dream come true to be able to play for Barca. I thank God for making this possible. It's an honour to be able to play with Messi, Xavi and Iniesta.
"Dani Alves was the one who insisted I join Barca."
Right choice
Barca defender Alves believes Neymar, his close friend and Brazil team-mate, has made the right choice.
"I spoke with him and he's very happy that he's coming to Barcelona, he knows that he's coming to a big club and he knows how big this team can be," Alves told the Barcelona website.
"He knows that he's coming to Barcelona, a place where he will improve as a person and a professional.
"He knows that this club treats its players well, when he gets here he'll see that this is the best club for him. Hopefully we can all help him [adjust] so then he can help us."