La Liga: Eric Abidal to leave Barcelona after six years following cancer fight
Eric Abidal, the defender who fought back from liver cancer, is to leave Barcelona after six years at the club.
Last Updated: 30/05/13 3:53pm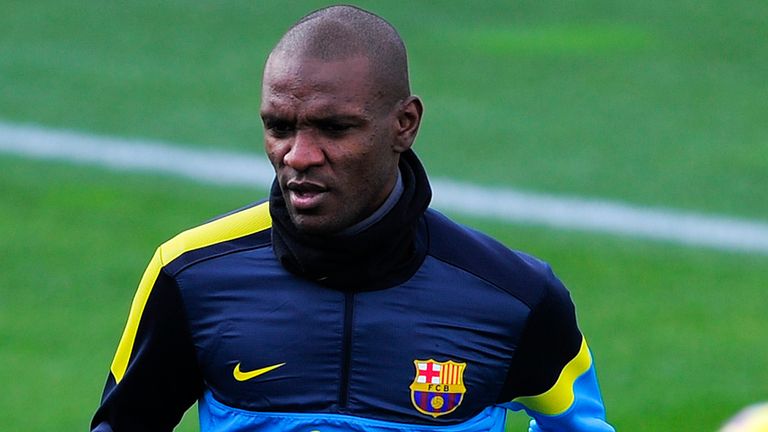 The French defender, who fought back from liver cancer and a subsequent transplant to play again, had hoped for a new deal after making his long-awaited comeback.
But he told a news conference on Thursday that his time at Camp Nou would end when his current contract expires next month.
"I would have liked to have stayed and played on at Barcelona but the club saw it differently and I have to respect their decision," an emotional Abidal, who won 15 titles during his spell in Catalonia, said.
"It's a very difficult day for me. The team is my second family. We have gone through a lot together and I'll remember this forever."
Barcelona president Sandro Rosell opened the door for Abidal to return as a coach once his playing career is over.
"He has won our hearts because you can never write him off," Rosell said. "He has had the strength to overcome all types of difficulties - he has taught us life lessons we will never forget.
"We are not saying goodbye, only 'until we meet again'. When he wants to hang up his boots Barca will open their doors for him to come back and be technical director of the youth academy.
"It's what we want and what we think he would want. If he thinks he can help us in another way we will work on that option."
"I hope to return because it is a club (that is) very special to me," Abidal added.
Abidal returned to first-team action as a substitute against Real Mallorca on 6 April, before playing 90 minutes for the first time two weeks later against Levante.
He was diagnosed with a tumour in March 2011 but needed a transplant after initial surgery failed to restore him to full health.