La Liga: Joan Laporta blasts board for destroying Barcelona's image
Former Barcelona president Joan Laporta says he is ready to stand for re-election, and has hit out at the current board.
Last Updated: 06/06/13 2:17pm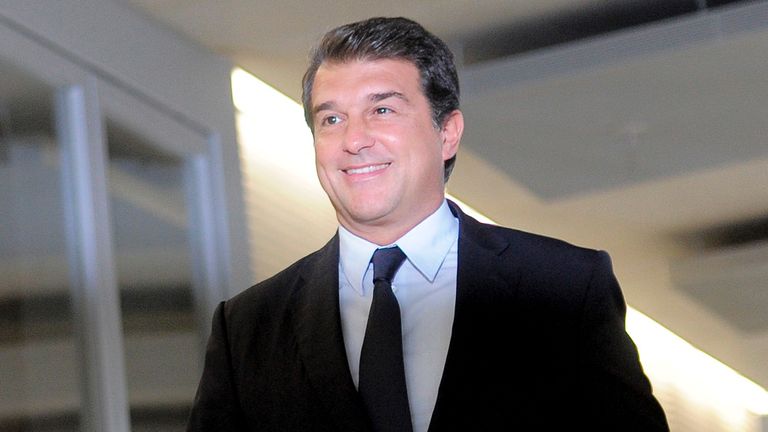 Laporta, whose seven-year reign ended in 2010, has accused his successor, Sandro Rosell, of damaging the club, referencing such episodes as stripping Johan Cruyff of the title of honorary president and agreeing a big-money shirt sponsorship deal - the first in the club's proud history - with the Qatar Foundation.
Speaking in Bogota, where he gave a lecture on strategic marketing, Laporta was quoted by the Spanish press as saying: "I think I'm ready to be president again.
"I have people linked to me that are able to rebuild a model of success in the club.
"I know how to do it, I had this responsibility (before) and I think I know what's best for the organisation."
Barca won four Primera Division crowns and two Champions Leagues during Laporta's presidency, and were widely considered the best team in Europe towards the end of his spell at the helm.
The league title returned to the Nou Camp in 2012/13 under Tito Vilanova, who replaced Pep Guardiola in the dugout last summer following the former Spain midfielder's trophy-laden four-year reign.
The success on the pitch has done little to placate Laporta, though.
"It's surprising, or ridiculous, to wish to modify a model of success, and seem to be obsessed with destroying everything we build," the 50-year-old said.
"They made it possible for Guardiola to leave, and we have had no appreciation. Conversely, they have gone on to destroy our image."
However, Laporta believes the current board should fulfil its existing mandate, rather than hold an election before 2016.
"An early election is for exceptional cases," he said. "If elections go ahead (early), as seems to be the intention of Rosell, it will be because they have personal interests to do so."