Johan Cruyff believes Barcelona should plan for possibility of selling Lionel Messi
Former Barcelona manager Johan Cruyff believes the Catalan club should plan for the possibility of selling Lionel Messi.
Last Updated: 25/06/13 6:09pm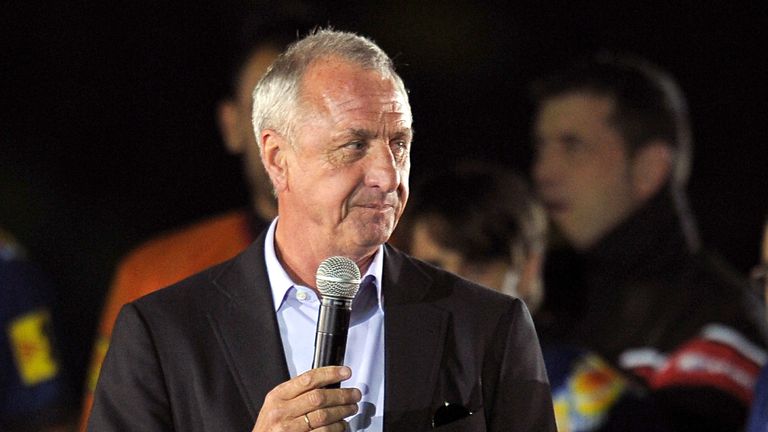 Neymar arrived at the Nou Camp on June 3, signing a five-year contract for 57million euros from Santos, but Cruyff believes the 21-year-old Brazilian forward will struggle to work alongside Argentinian Messi in Tito Vilanova's frontline.
Cruyff told Marca: "With Neymar signed, I would have planned for the possibility of selling Messi. Some would agree with that, others not.
"You are talking about a team, its players, the things around it... There are too many things at stake. That's why it's so difficult to manage such a top-class squad."
Cruyff believes it will be difficult to satisfy two prodigious talents like Messi and Neymar on the same pitch, and that problems could also occur due to the two players having contracts with different sponsorship arrangements.
"It's like the free-kicks. Neymar is very good at taking them, and Messi has already shown he is. Who's going to take them?" he said.
"Or the fact that Neymar and Barcelona are with Nike while Leo is with Adidas. These are situations that could cause problems."
Cruyff, who both played for and managed Barcelona, leading them to their first ever European Cup in 1992, added that he would not get excited about Neymar playing for the club until he had watched several games with him in the side.
"We'll have to wait and see," he added. "He is talented but we'll have to see how he gets on with everyone. That's a problem.
"It could turn out well or badly. It's a risk. I wouldn't have signed Neymar."
Messi has struggled to develop a blossoming on-field relationship with any of his striking partners, including Bojan Krkic, Samuel Eto'o, Zlatan Ibrahimovic and David Villa. Three of those players have since left the club, while Villa failed to hold down a place in the first team last season.
"Depending on how you view it, it can seem that Messi is a dictator," said Cruyff.
"When you have the chance to be the best player on the pitch in every game you have to be a bit of a dictator, because you are not just concerned about your team, you are concerned about yourself and your prestige.
"Therefore the pressure on Messi is huge because everyone in the stadium wants to see him perform miracles. And for him to pull off miracles, things have to work in his favour."