Atletico Madrid thrilled with bargain price paid for Spain striker David Villa
Atletico Madrid president Enrique Cerezo believes his club got a bargain price for Spain striker David Villa.
Last Updated: 09/07/13 12:51pm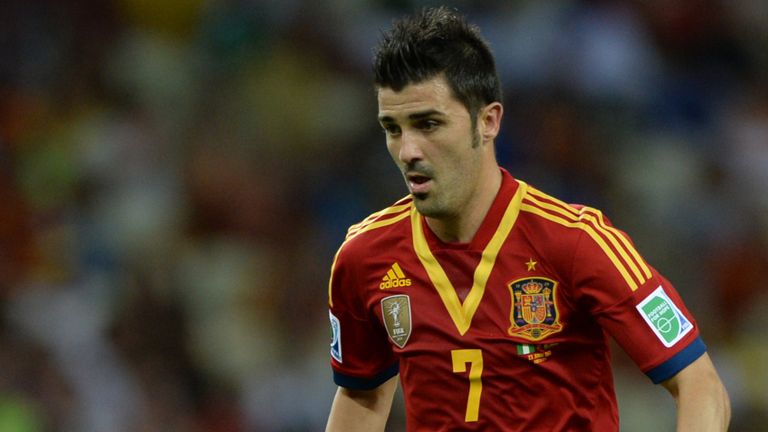 Atletico will pay Barca an initial 2.1million euros for the 31-year-old - Spain's record all-time goalscorer - rising to 5.1m euros if he sees out the entirety of a three-year deal.
"Many Spanish and foreign teams would have sacrificed a lot to have Villa in their squads and we have paid a very low price for him, so we're very pleased about that," Cerezo told Radio Nacional de Espana.
"The most important factor in the deal was that we have wanted to sign Villa for a long time and that's why we're so happy. We wanted to sign him when he went to Valencia from Zaragoza, and now he belongs to us."
Villa started less than half of Barcelona's league games last season, scoring 10 goals, but Cerezo is convinced he still has a lot to give.
He said: "Villa still has many seasons left in football. He is a natural goalscorer. We are expecting great things from him because he is one of the key players in the Spain team. We expect him to score many goals."
Atletico finished third in La Liga last season thanks in no small part to the 28 goals scored by Radamel Falcao, who has since left to join big-spending Monaco.
But it appears Cerezo is satisfied Villa can fill the void and does not plan to spend further on the likes of attacking midfielder Diego, a former Atletico loanee who is back at Wolfsburg.
"It will be very difficult for Diego to come here, I would say in this moment that it's impossible," he said.
"I don't know who will be the next to arrive, the important thing is to maintain the team we have."