Messi's man
Gerardo Martino is a former Argentina international midfielder with experience coaching Newell's Old Boys in his homeland as well as the Paraguay national team. But Tim Vickery thinks the chief reason for his appointment as Barcelona boss is Lionel Messi's presence at the club.
Last Updated: 06/08/13 5:28pm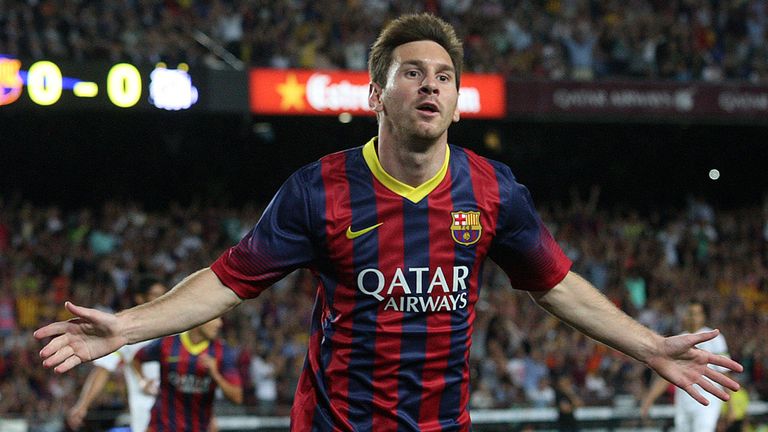 The news that Tito Vilanova would have to step down as Barcelona coach in order to focus on his battle with cancer was not only deeply sad but it also presented the club with a problem. Who could they bring in? Appointing from within once again was swiftly ruled out. And yet, the person brought in from the outside would need to build a relationship with the players at short notice.
Barca's solution was to turn to Gerardo Martino, an Argentine coach who has enjoyed success in his homeland by winning the title with Newell's Old Boys as well as guiding the club to the semi-finals of the Copa Libertadores. The 50-year-old has no experience of coaching in Europe but what he does have is the respect of Lionel Messi. And South American football expert Tim Vickery feels that is significant.
"This really shows the force of Lionel Messi at Barcelona," Vickery told Sky Sports. "Messi says many times when he is asked about his identity that he's from Argentina, he's from the city of Rosario and he's a fan of Newell's Old Boys. Gerardo Martino is the player who has most worn the shirt of Newell's Old Boys. He was the favourite player of Messi's father and in the last year or so Martino made a sentimental return to Newells as a coach and took them to the Argentine title.
"Barcelona were clearly looking for a coach in a hurry. Who would be the best candidate to get the best out of Lionel Messi? That's why all roads have led to Gerardo Martino. This really is a coach they are bringing in at the last minute, due to Tito Vilanova's cancer problems, in order to keep Messi happy. He is a coach who can play a number of systems but left to his own devices likes to play a 4-3-3 with two wide men and a false No.9. Again, it all seems set up for Lionel Messi."
Experience
While Martino does not possess experience of European club football, he has coached on the biggest stage of them all - having led Paraguay to the quarter-finals of the 2010 World Cup in South Africa. His five year spell in charge was revealing in the sense that he showed himself to be an ambitious coach who could prove a good fit at Barca, but also a pragmatic one - unlikely to be wedded to an attacking approach at all costs.
"With Paraguay I think it was an important learning curve for him," added Vickery. "He took over with the intention of getting Paraguay to be more proactive. Getting them out from the edge of their own penalty area and getting them to take the initiative in games. His first competition with Paraguay was the 2007 Copa America. It started well enough but then they got to the quarter-final and the wheels absolutely came off. They had the goalkeeper sent off early and lost 6-0 to Mexico. The defence didn't know if it was coming or going.
"I spoke to Martino shortly after that game and he agreed that he tried to go too far too fast with Paraguay. He hadn't really taken into account the characteristics of the Paraguayan players and after that his work with Paraguay became much more pragmatic. When they could take the initiative they did so but when they were outgunned his Paraguay were happy to soak-up pressure and strike out on the counter-attack.
"He goes off to Spain with very little European experience. He played a handful of games for Tenerife more than 20 years ago, he's never coached in Europe. But at least the Spanish public have seen Martino's work at its best because he got Paraguay to the World Cup quarter-finals for the first time in South Africa, where they really gave Spain a game before going down. Had Oscar Cardozo not missed a penalty it could have been a different story.
"In those three tournaments that Spain have won - the World Cup and the two European Championships - of all the knockout games I don't think anyone has given them a harder game than Paraguay. So at least the Spanish public has seen that Martino is serious."
Mentor
The Spanish public have also had a taste of what to expect from Martino thanks to the presence of his mentor Marcelo Bielsa in La Liga for the past two seasons at Athletic Bilbao. Bielsa has gained a cult following thanks to his remarkable commitment to an attacking high-tempo game and Vickery believes the veteran might have been the better bet given Martino's lack of experience in Europe. "It's an extraordinary appointment from that point of view," admits Vickery. "I would have thought that Martino's mentor Marcelo Bielsa would have been a more natural choice.
"Bielsa was a mentor for Pep Guardiola, one of the people who Guardiola consulted before stepping up to the top job at Barcelona. Bielsa is also very much the mentor at Newells Old Boys for Martino. With the European experience he has picked up with Athletic Bilbao, I would have thought Bielsa would be the ideal candidate. But they sounded him out and he wasn't interested. In the absence of Bielsa, Martino is a good candidate but they are throwing him in at the deep end."