Cesc Fabregas calls for Barcelona to overcome loss of Lionel Messi against Celtic
Cesc Fabregas has urged his Barcelona team-mates to step up when they take on Celtic without Lionel Messi.
Last Updated: 30/09/13 9:29pm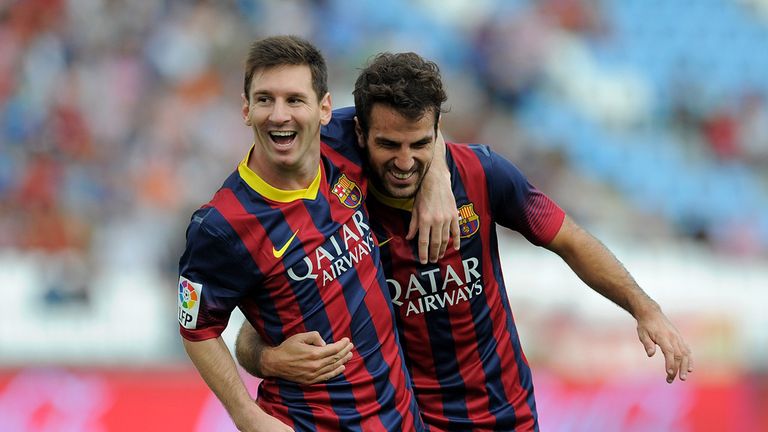 The Argentina forward will miss Tuesday's Champions League Group H clash at Parkhead after picking up a thigh injury during Saturday's win over Almeria.
Former Arsenal midfielder Fabregas knows the loss of Messi is a huge blow, but he believes Barca have enough strength in depth to atone for last season's shock defeat at Celtic.
"It is a test because we always want him in our team," Fabregas said. "Obviously Lionel is the best player in the world, I don't even have to say that and you obviously will miss a player of his talent and dedication.
"We rely on him a lot. He is the best player, the one that scores more goals, the one that does the offensive tasks. He is always there for us, he gives assists, he is the best.
"He can win a game at any moment so we are sad for that but you cannot feel sorry for yourselves because you are missing a great player.
"Without Messi we will have to take more responsibility.
"I think we all have to step up and make sure that we don't feel his absence, and show we can play great football without him.
"When he is not there we have to adapt the situation and players like Neymar, myself if I play, Alexis Sanchez, Cristian Tello, Pedro Rodriguez; we have to step up and do the job that a striker is made for which is scoring goals and giving assists.
"I think Tuesday is a test in that way."
Fabregas also believes that 21-year-old Brazilian star Neymar could be the one Barcelona player capable of one day reaching the levels of Messi.
"He is a very talented player, very quick and has the skills to get away from you easily," the Spain international said. "He is already a star but this boy will have a lot to say in the future of football.
"It is up to him. Everything is in his hands. He came here to learn, to compete, to fight, to grow up as a player and a person.
"He is still a boy and in the future we will be talking about him as one of the greatest."
Fabregas was in the Barcelona side which lost 2-1 to Celtic in the group stages of the competition last November but he added: "We will not obsess about what happened last year.
"We played a good game and what we need to do is keep possession, not give the ball away too easily, minimise our mistakes and maximise our chances.
"Set-pieces and counter-attacks will be the main threats from Celtic.
"If you follow European football you know that coming to Celtic Park is always going to be tough, wherever they are in the table or whichever manager they have.
"I played here with Arsenal and you have to expect a difficult game. The fans are always behind the team and that is pressure but I think we can deal with it.
"We have played in big games in our careers' and tomorrow will be one of them."