Ronaldinho v Neymar: Which Brazilian has been more important for Barcelona?
The Revista panel compare Brazilian playmakers Neymar and Ronaldinho and their importance for Barca.
Last Updated: 15/01/14 9:15am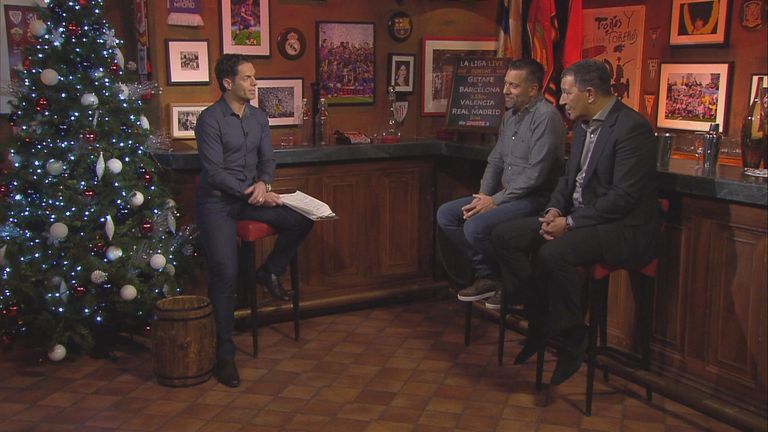 Neymar scored a brace against Villareal last weekend which brought his goalscoring tally to an impressive nine goals in 20 appearances for Barcelona since joining from Santos in summer.
With the Catalan club's main man Lionel Messi out injured for the past month, the 21-year-old has coped well the pressure of finding the goals and is rapidly making his £48.6million price tag look like a bargain.
Joining Scott Minto and Guillem Balague in the Revista bar this week was former Barcelona assistant coach Henk ten Cate, who worked under Frank Rijkaard between 2003-06 and coached another talented Brazilian playmaker, Ronaldinho and he finds the pair hard to compare.
"You can't really compare them to be honest because Neymar is a fantastic player, no doubt about it," said Ten Cate.
"If you look at the importance of Neymar for the team and the importance that Ronaldinho had in his period, right now you'd have to admit that Ronaldinho was of bigger importance.
"But, take in to consideration that Ronaldinho was 24 when he joined Barcelona and he had already had a two-year spell at Paris St Germain and this bloke [Neymar] comes from Sao Paulo, flies to Barcelona and this is his first connection with European football; I think he's doing great."
Guillem Balague agreed with the Ten Cate's comments and added that Neymar's 'superstar status' off the pitch does help, but he needs to convert more goals.
Balague said: "There was a choice by the local media to do more covers with Neymar when he first arrived, partly to sell the idea that he was superstar, but they had to see him on the pitch.
"But you see him on the pitch and he's influential. He scores goals but he needs more shots on goal than Lionel Messi, for instance, to score those goals. But he's done all of that without resting and he'll get rest now."
Do you think Neymar will achieve the same status as Ronaldinho? Let us know by leaving your comments below.