Transfer news: Zlatan Ibrahimovic urges Barcelona star Lionel Messi to join PSG
Zlatan Ibrahimovic believes Lionel Messi could take PSG from being French champions to European title contenders.
Last Updated: 31/12/13 11:38am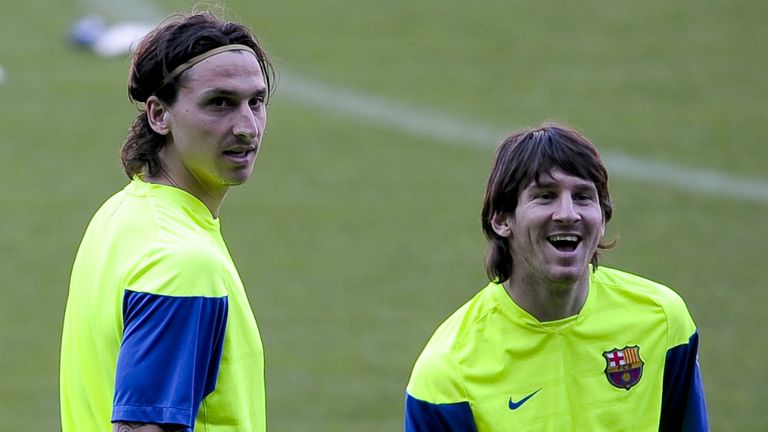 Rumours in the French media have suggested the big-spending Paris side are preparing a record bid for Barcelona's Argentina playmaker.
Ibrahimovic played alongside Messi during his two-year spell at Camp Nou but struggled to forge a successful partnership with the diminutive forward.
However, the Sweden international believes the addition of his former team-mate and four-time Ballon d'Or winner would make PSG a force to be reckoned with in Europe.
"If he's up for sale then the whole world will be after him, not just PSG," Ibrahimovic said at a winter training camp in Doha.
"I don't know the situation but I think he's very happy at Barcelona.
"The press creates this but only he knows the truth. PSG's project is to dream bigger but if you buy Messi, you don't dream bigger, you are bigger."
Since the Ligue 1 side's takeover, signings such as Ibrahimovic, Thiago Silva, Lucas Moura and Edinson Cavani have many highlighting PSG as genuine contenders for the UEFA Champions League crown.
Never satisfied
They reached the quarter-finals last year, where they lost on away goals to Messi's Barcelona, while their best result in the competition remains their semi-final run in 1995.
Although PSG are champions of France and leading the way in Ligue 1 again this season, Ibrahimovic is determined to go one step further.
"I'm never satisfied, I want to win," he added. "We've progressed well and quickly. The team has come on very quickly in the right direction.
"We play very good football, we have the ball, we create chances.
"There's a high level of collective quality, our mentality is progressing. Everything's going in the right direction and I'm delighted."
The Paris side take on Real Madrid in a friendly in Doha on Thursday and Ibrahimovic insists it will not be a light-hearted affair.
"Unfortunately it's a friendly match but we'll treat it like a competitive match," he said. "It would be good for confidence to win."